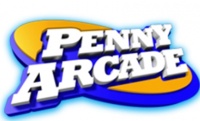 Del Rey will publish its first collection of the uber-popular Webcomic Penny Arcade, The Splendid Magic of Penny Arcade: The 11.5 Year Anniversary Edition, in February of 2010. The 208-page hardcover collection is a compilation of the authors' favorite strips from throughout the comic's lengthy run and will provide fans of the number one comic for and about gamers a mega-dose of inside-gaming humor.
Penny Arcade, which debuted in 1998, is one of the most popular of all Webcomics averaging roughly two million page views a day. Penny Arcade creators Mike "Gabe" Krahulik and Jerry "Tycho" Holkins publish new strips on the Web every Monday, Wednesday, and Friday. The Penny Arcade Expo (PAX), which covers all forms of electronic gaming (and is attended by an increasing number of tabletop game publishers as well), drew 58,000 fans in 2008 and is expanding to the East Coast in 2010 (see "PAX Coming to East Coast in 2010").
With that kind of popularity it should come as no surprise that Penny Arcade was also one of the first Webcomics to sell big numbers in print collections. Dark Horse, which has been the leader in the publishing of online comic strips, hit gold with the first Penny Arcade collection that it published in 2006 (see "Penny Arcade Brings in Bucks").