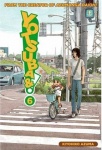 At the New York Comic Con, Yen Press announced that it has acquired the popular Yotsuba&! manga series created by Kiyohiko Azuma (Azumanga Daioh) as well as Hyouto Fujiyama's yaoi fantasy The Crescent Moon Story and the seinen adventure/romance Spice and Wolf, which is an adaptation of the series of light novels by Isuna Hasekura. Last year Yen announced that it was publishing Hasekura's popular nine-volume light novel series, which has already inspired two anime series as well as the manga adaptation.
Yotsuba&! was a consistent performer on ICv2's "Top 50 Manga Property" chart when ADV published the first five volumes of this delightful series about a young girl's wide-eyed reactions to everyday objects. The five-year-old heroine of the series is a green-haired orphan who lives with her adoptive father and finds enjoyment and wonder in the most mundane things. Now Yen Press is picking up the ongoing Yotsuba&! manga, which has reached 8 volumes in Japan, starting with Vol.6.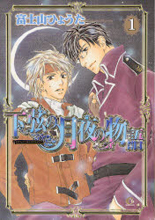 The Cresent Moon Story
is a seagoing
yaoi
romance.
The hero calls on the spirit of the crescent moon to help him find the woman of his dreams, but moon's candidates are always men.
Keito Koume's two-volume ongoing
Spice and Wolf
manga is a
seinen
romance adventure about a wolfgirl/harvest deity who is tossed out of her village and hides in the cart of a traveling merchant touching off a series of adventures featuring this unlikely duo.
Yen also announced two manhwa series, Raiders, an Indiana Jones-like archaeological adventure by JinJun Park, and Laon, a fantasy adventure by YoungBin Kim and Hyun You,