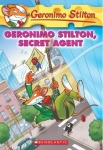 ICv2 has learned that Papercutz, which publishes the Nancy Drew, Hardy Boys, Bionicles, Classics Illustrated, and Tales from the Crypt graphic novels, has acquired the rights to create a series of graphic novels based on the Geronimo Stilton novels that are aimed at readers from 9-12 and published in the U.S. by Scholastic Inc. So far 37 novels about the eponymous hero, a talking mouse who lives in New Mouse City, is the editor of The Rodent's Gazette and a collector of 18th Century cheese rinds, as well a popular novelist, have been published in Italy.
The Geronimo Stilton novels, which purport to have been written by the title character, but are actually the work of Elizabeth Dami, are the most popular children's books in Italy. They have been translated into 35 languages and have inspired a 26-episode animated cartoon series that is being produced by a consortium of companies in Italy, Canada, and France and is set to debut later this year. Other characters in the adventure-packed series include Geronimo's younger heartbreaking sister Thea, his obnoxious cousin Trap, and his nine-year-old nephew Benjamin.
Since Scholastic has introduced the Geronimo Stilton novels, the series has been averaging sales of about 60,000 per volume, which indicates that there should be a substantial market for the graphic novel adaptations, as does the success of such mouse-themed graphic novels as David Petersen's Eisner Award-winning Mouse Guard and Michael Avon Oeming's Mice Templar.