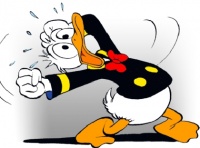 Reports on the Disney Comics Worldwide Website indicate that Gemstone Publishing is not renewing its license to publish Disney comics in the U.S., however J.C. Vaughn of Gemstone told ICv2 that no final decision has been made yet regarding either the Disney titles or the EC Archives.
Gary Leach, who has worked on the American editions of Disney Comics for over two decades, posted a message on the Disney Comics Mailing List site stating: "Gemstone is not renewing the Disney comics license, and won't be putting out any more issues since the last ones that reached the shops."
But late Monday night Gemstone Executive Editor J.C. Vaughn responded to queries from ICv2. Vaughn relayed a message from Steve Geppi, President of Gemstone, who stated that although there have been layoffs at Gemstone (as there have been at many publications) "this is not the end of Gemstone Publishing." Gemstone's flagship title, The Overstreet Comic Book Price Guide "is alive and well" and will continue with new developments slated for next year's 40th Anniversary Edition. Geppi also added "At this time, no final decision has been made regarding The EC Archives or our comic books featuring Disney's standard characters, but it seems certain that both lines will continue in some form."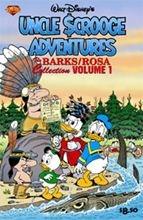 Back in the mid-1950s
Walt Disney's Comics & Stories
was
America
's #1 comic book with a monthly circulation of over 3 million, but when
Gladstone
, which held the Disney license before Gemstone, went out of business in 1999, there was a 4-year hiatus in the publication of Disney Comics until Gemstone took over the license in the summer of 2003. Since then Gemstone has published some 280 issues of Disney comics including innovative volumes that paired classic Carl Bark stories with sequels by top modern duck artist Don Rosa.