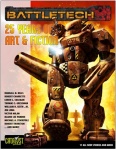 Twenty-five years after FASA published BattleDroids, a stand-alone box game recreating the giant robo/mecha science fiction action of the best anime, Catalyst Game Labs is set to celebrate the silver anniversary of this unique science fiction game that became BattleTech in its second year of existence. Since its origin in the mid-1980s BattleTech has spawned more than 100 novels, over a dozen computer games, comic books, toys, a cartoon series, and virtual world centers. In 2002 the appellation of "Classic" was attached to BattleTech, but in this anniversary year Catalyst Game Labs is reverting to the original unadorned "BattleTech" name for a host of celebratory products.
A key part of the celebration is the publication of BattleTech: 25 Years of Art and Fiction ($59.99) a deluxe oversize 160-page art book filled with a retrospective sample of 25 years of art, plus over a hundred thousand words of new original fiction from top BattleTech authors such as Thurston, Charrette, Milan, Gressman, Coleman, Keith, Long, Pardoe and Stackpole. The deluxe volume also will contain a universal timeline of the BattleTech universe as well as a definitive bibliography of all the published material relating to BattleTech from FASA to Fan Pro to WizKids to Catalyst.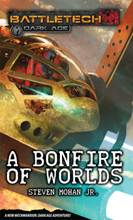 Next fall Catalyst plans to launch a full novel publishing program with print editions of new novels such as
A Bonfire of Worlds
($7.99) by Stephen Mohan, Jr. and
Shadows of Faith
($7.99) by Loren L. Coleman as well as anniversary editions of some of the best
BattleTech
novels such as the
Warrior Trilogy
by Michael Stackpole.
In addition Catalyst plans to make out-of-print Battletech novels available in the Electronic Advanced Reader Copy (EARC) format via the BattleCorps.com Website. Paths of Glory by Randall N. Bills, which was first published in print in 2000, is available on the site now, and a new volume will be added every month. The EARC books can be purchased through the BattleShop by anyone, but they are free to BattleCorps members.