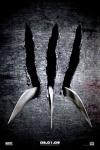 A work print of Fox's X-Men Origins: Wolverine, which opens on May 1st, has been posted on the Web a full month before the film debuts. Fox immediately released a statement concerning the most serious breach of studio security in years:
"Last night, a stolen, incomplete and early version of X-Men Origins: Wolverine was posted illegally on Websites. It was without many effects and had missing scenes and temporary sound and music. We immediately contacted the appropriate legal authorities and had it removed. We forensically mark our content so we can identify sources that make it available or download it. The source of the initial leak and any subsequent postings will be prosecuted to the fullest extent of the law."
According to Variety, the last major leak of this magnitude occurred in 2003 with Ang Lee's Hulk, which was posted on the Internet some two weeks before the film opened. Universal tracked down the person responsible and he was prosecuted and sent to jail. In 2005 a pirated version of Star Wars: Episode III: Revenge of the Sith also hit the Net, but that was just one day before the film opened. The problem in the case of this Wolverine leak is not finding the person responsible (the work prints are well marked and the studio should be able to identify it easily); but once it is up on the Web and widely disseminated (especially on foreign sites), it is difficult if not impossible to stop the spread of the film and prosecute all those responsible.
As Fox pointed out, the print that leaked is not the finished film. It is missing some scenes, has a temporary music track, the sound has not been cleaned up to normal theatrical specs, and the footage is darker than it will appear in the release print.
Interestingly Fox has received some help from online movie sites. Ain't It Cool News, which often prints insider reviews, is refusing to run any reviews of the film until it is formally shown to the press. In an article on Ain't It Cool, "Beaks" took a forthright stance against this sort of film piracy, stating: "I don't want to encourage piracy at a time when the studios are laying off people in droves. This is bad, bad, bad for the business."
Because the writers' strike screwed up the schedules of Marvel Studios, Universal, and Warner Brothers, Fox's X-Men Origins: Wolverine is the only major superhero film to open this summer. Fox has done quite a bit to promote the film (see "Wolverine Invades 7-Elevens") and its star, Hugh Jackman, hosted the Oscar telecast. Both the studio and the industry have a fair amount riding on it.