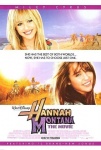 Disney's Hannah Montana the Movie topped the Easter weekend box office with a better than expected $34 million total, while Fox's Dragonball Evolution underperformed and ended up at #8. Last week's winner Fast and Furious dropped 59.4% but still earned an estimated $28.8 million, while Dreamworks' Monster vs. Aliens finished third in its third weekend of release, dropping just 30.6% and adding $22.6 million to its stellar $141 million cumulative. The combined strength of the top three films helped push the box office nearly 50% over the same frame in 2008, setting an all-time record for the Easter weekend in the process.

Weekend Box Office (Studio Estimates): April 10-12, 2009

| | | | | |
| --- | --- | --- | --- | --- |
| Rank | Film | Weekend Gross | Screens | Avg./Screen |
| 1 | Hannah Montana The Movie | $34,000,000 | 3,118 | $10,904 |
| 2 | Fast and Furious | $28,783,000 | 3,472 | $8,290 |
| 3 | Monsters Vs. Aliens | $22,617,000 | 4,136 | $5,468 |
| 4 | Observe and Report | $6,670,000 | 2,727 | $4,085 |
| 5 | Knowing | $6,670,000 | 2,925 | $2,280 |
| 6 | I Love You, Man | $5,710,000 | 2,643 | $2,426 |
| 7 | The Haunting in Connecticut | $4,650,000 | 2,721 | $2,132 |
| 8 | Dragonball Evolution | $4,650,000 | 2,181 | $1,830 |
| 9 | Adventureland | $2,997,000 | 1,876 | $1,830 |
| 10 | Duplicity | $2,997,000 | 1,965 | $1,525 |
Hannah Montana the Movie earned $17.3 million on Friday, posting the biggest opening day ever for G-rated live-action movie. As expected the audience for the Hannah Montana movie was overwhelming female (91%) and under the age of 25 (77%). Hannah Montana the Movie's $34 million debut was the second largest weekend bow ever for a G-rated live action movie trailing only High School Musical 3's $43 million debut. Even though the Hannah Montana movie posted a solid "A" CinemaScore from its opening weekend audience, "legs" could be a problem. High School Musical 3, which appeals to the same young female audience, currently holds the dubious distinction of posting the largest opening for a film that failed to reach $100 million at the domestic box office.
Two other films debuting this Easter, Observe and Report and Dragonball Evolution, proved to be disappointments. Seth Rogen's R-rated mall cop comedy Observe and Report demonstrated that it is certainly not in the same box office league as Kevin James' Paul Blart, Mall Cop, which has been one of the surprise box office hits of 2009. Observe and Report earned an estimated $11.1 million, which was below expectations though not disastrous. But the movie's "C" CinemaScore certainly does not bode well for the film's future prospects. Critics have applauded Rogen for going against type and playing a thoroughly unlikable character, while audiences evidently came to a very different verdict.
Fox certainly doesn't expect to do as well with Dragonball Evolution in North America as it does in the rest of the world. The film opened here in 2,181 theaters and earned just $2,132 per venue, a performance that was below many analysts' expectations,. With only a 16% positive rating from critics (according to Rotten Tomatoes, though the film did get a positive notice from The New York Times), and just a C+ CinemaScore from patrons, the future at the domestic box office doesn't appear very bright for this adaptation of Akira Toriyama's manga. It appears it will have to do most of its damage overseas, though its $4.7 million opening undoubtedly increased exposure of the property, an effect that should be even more pronounced when the film is released on DVD.