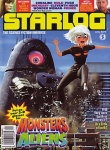 After 33 years, Starlog magazine has ceased publication, according to an announcement on its Website. Issue #374 will be the final issue. "It is also at this time that we announce the temporary cessation of the current run of Starlog as a print magazine," the announcement said. "After 33 years, and considering the present state of the economy, we feel it's time for a major revamp and will be temporarily discontinuing publication while the model and redesign of the magazine are contemplated and executed."
The Starlog Website will continue, and Fangoria will continue to be published. The company has also announced that it will soon begin offering digital editions of the entire run of Starlog magazine. It has been unable to offer back issues since a Kable News warehouse fire in 2007 destroyed its entire inventory of back issues.
Starlog was founded in August 1976 by Kerry O'Quinn and Norm Jacobs, who ran the magazine for decades (along with EVP Rita Eisenstein). Starlog, Fangoria, and other assets were acquired by Creative Group in 2005 (see "Creative Group Acquires Starlog Group"). Creative Group filed bankruptcy last year, and Starlog and Fangoria ended up in the hands of The Brooklyn Company, run by longtime Fangoria President Thomas DeFeo.
Recognizing that its fortune was tied to finding the hardcore fans that wanted its content, Starlog was one of the first publishers to sell to the then nascent comic store distribution network in the 70s, and supported its growth through the late 70s and the following decades.