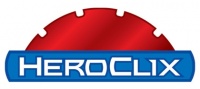 The deal for the sale of WizKids' assets has failed to close, according to a source close to the negotiations, although only a few weeks back, a deal seemed imminent (see "HeroClix Deal Near"). The source attributed the deal's collapse to financing issues on the part of the acquirer that came to light only recently.
Topps, which closed WizKids last November (see "Topps Shuts Down WizKids") is now thinking about releasing the next HeroClix product, the Hammer of Thor set, in some form itself this summer, because of the long gap between products and the continuing interest in HeroClix. This would not be without its challenges, but may be preferable to going through the summer without a new release.
Negotiations are expected to pick up with companies that had been outbid by the company with which Topps had been negotiating exclusively, with continuing interest reported and hopes that a sale to one of them can be completed. But it would be tough to close a new deal in time for a new company to get out a product this summer, so for a new HeroClix product to be released by Gen Con, it will probably have to be from Topps.