With several former WizKids employees involved, new game company Wells Expeditions plans to launch a miniatures game, Arcane Legions, later this year (see "Preview of 'Arcane Legions'"). The game, designed by Jordan Weisman, Ethan Pasternack, and with help from others, will be supported by organized play, an online subscription-based "club" site, and a graphic novel by IDW.
Wells Expeditions (named as a tip of the hat to H.G. Wells, who invented the first miniature war game) will be one of two game imprints of parent Compound Fun. The company will also re-release the former WizKids game Tsuro under its Calliope Games imprint in October as a more family-friendly game, possibly with a different theme. Other products are also in development. Ray Wehrs, formerly director of sales at WizKids, is also involved in the new venture.
Boasting "high-quality figures at a good price point," Arcane Legions is a mass action collectible miniatures wargame. Set in the year 37 B.C., it pits three factions – Octavian's Romans, Cleopatra's and Mark Antony's Egyptians, and the Hans (Chinese) – against each other in a battle for supremacy for the ancient world. Cleopatra, in actuality a centuries-old vampire, has summoned legions of otherworldly warriors, most of whom fight for the highest bidder. Players recruit these armies for their chosen faction, using Arcane Legions' innovative card-based unit formations, which allow players to shift their strategies on the go, optimizing their armies for attack, defense, or movement.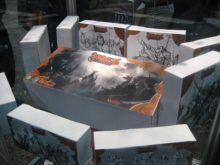 Figures for
Arcane Legions
can be purchased three different ways. The starter pack contains over 100 figures, bases, and rules – everything two people need to play – with an MSRP of $34.99. Faction-specific army or cavalry packs contain 40 common foot soldiers or 15 cavalry units for one of the three factions for $14.99. Booster packs contain eight figures each. They retail for $11.99 and come 24 to a case, in three eight-pack bricks, one for each faction, thus allowing a player to buy an entire faction's worth of characters for around $100. "The first goal is to keep this game affordable," said Wells' Online Marketing Manager Mark Chase. "The beauty of this system is that you can purchase additional stuff that is faction-specific." The army and cavalry packs contain unpainted figures; all other figures come fully painted.
Booster packs also contain base cards, which define how armies are arranged and what their capabilities are. The initial release contains about 250 cards and players can go online to create and print out their own custom cards, which will be legal in sanctioned tournaments. Subscriptions to the Website, which will entail a $3 monthly fee, also include access to monthly exclusive figures.
Wells plans to release Arcane Legions in September, with new booster packs coming out once a year (introducing about 180 new pieces each), and new starter and army packs every two years.
A graphic novel by IDW is also scheduled for later this year and will provide backstory for the game.