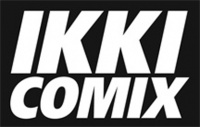 Viz Media has soft-launched a Webcomics site tied to Ikki, a monthly magazine from Shogakukan in Japan, and its Viz Signature line of graphic novels here in North America. The new site is launching with Children of the Sea by Daisuke Igarashi.
Viz has revealed four other series that are planned for future serialization:
Bokurano: Ours, by Mohiro Kitoh
House of Five Leaves, by Natsume Ono
Dorohedoro, by Q Hayashida
I'll Give It My All… Tomorrow, by Shunju Aono
Ikki is a venue for a diverse range of innovative contemporary manga in Japan, and the U.S. site will echo that content mix. Viz will serialize the series via monthly chapters on the Website prior to releasing them as collections under its Viz Signature imprint, which targets a more mature, sophisticated audience than its other imprints. Ancillary content, such as creator interviews, features, news, and giveaways, will also be included on the site. Viz hopes that making its content available free online in this way will expand the audience for the collections when they're released.
Daisuke Igarashi has won numerous awards, including the 38th Japan Cartoonist Award for Children of the Sea. The first volume of the Viz Signature collection of the series (see "Review of Children of the Sea") is scheduled for July.
The SigIkki.com site uses a Flash-based manga reader.