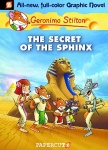 Papercutz has revealed that initial print runs for its Geronimo Stilton graphic novels (see "Papercutz Gets Geronimo Stilton") will top 50,000 copies. These initial runs are two and a half times the initial runs on Papercutz' Bionicles titles, the company's biggest success to date.
Copies committed include "substantial" foreign orders, serviced by Papercutz' distributor Macmillan, according to the company.
The Geronimo Stilton chapter books from Scholastic have sold over 10 million copies in English, including over seven million in the U.S. alone.
The first two Papercutz Geronimo Stilton graphic novels, The Discovery of America and The Secret of the Sphinx, are due out in August.