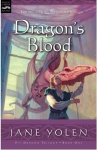 At the BEA Dark Horse announced the forthcoming publication of The Last Dragon, a graphic novel for young readers based on an original story by Jane Yolen and illustrated by Rebecca Guay. The Last Dragon is the first foray into the field of graphic novels by Jane Yolen, and typically she has written an original story for the book rather than simply permitting someone to adapt a volume from her extensive library of over 280 titles.
Adept at both fantasy and science fiction as well as children's literature, Yolen has won Nebula Awards and written the Caldecott medal winners Owl Moon and The Emperor and the Kite. Her extensive list of children's and Y.A. titles includes the Commander Toad series, How Do Dinosaurs Say Goodnight, and most pertinent (if only by genre) to the creation of her first graphic novel, The Pit Dragon Chronicles, an engrossing series of adventures set in a meticulously-created science fiction world, a former prison planet named Austar where a system of slavery is still in force and telepathic dragons are trained to fight in pits.
Librarians and others familiar with children's literature are also well aware of Yolen's Wizard's Hall, which was published in 1991 and includes numerous elements also found in the Harry Potter books.