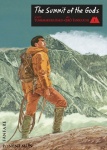 In July Fanfare/Ponent Mon will release the first book in the five-volume manga series, Summit of the Gods, which is based on a prize-winning novel by Yumemakura Baku and illustrated by Jiro Taniguchi. Summit of the Gods originally appeared in Business Jump, a seinen manga anthology magazine.
Taniguchi's realistic art style and gekiga sensibility made him the perfect choice to adapt Baku's novel about a 1920s attempt to scale Everest, and it is no wonder that the superbly drawn Summit of the Gods won "Best Art Award" at the 2005 Angouleme festival. The first volume in the series also won the "Excellence Prize Manga Division" at the Japanese Ministry of Culture's Media Arts Festival in 2001. The Summit of the Gods is an example of manga literary adaptation at its very best and, with its heaping helpings of both mystery and adventure it should have broader appeal than most literary comic endeavors.
The intriguing elements of The Summit of the Gods are firmly rooted in the history of mountaineering. On June 8th, 1924 climbers George Herbert Leigh Mallory and Andrew Irvine were last seen ascending towards the summit of Mount Everest. They never returned and their disappearance set off considerable speculation as to whether they had reached the summit and met disaster on their descent or whether they had failed to reach the as-yet unclimbed peak. In 1993 a Japanese expedition photographer discovered a rare 1920s Kodak in a bazaar in Katmandu. In 1999 Mallory's body was discovered minus his camera.