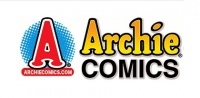 Jon Goldwater, son of Archie Comics co-founder John Goldwater is the new CEO of Archie Comics Publications. He also purchased an ownership interest in the company.
Goldwater plans aggressive efforts to expand both the company's currently active properties and its dormant ones. Goldwater listed a number of projects on which he hopes to make announcements soon, including an Archie feature, Archie toons, a Katy Keene TV show, and a new music deal for the Archies.
Other properties Goldwater hopes to developing include Lil Jinx, the Red Circle characters, Sabrina, Josie & the Pussycats, Cosmo the Merry Martian, Pat the Brat, Wilbur Wilkins, Bingo Wilkins, Suzie and Ginger Snapp.
Goldwater is the brother of Richard Goldwater, who ran the company for years with Michael Silberkleit (sons of co-founders John Goldwater and Louis Silberkleit). Both Silberkleit and Richard Goldwater passed away recently (see "Michael Silberkleit Dies at 76" and "Archie's Richard Goldwater Dies").
Jon Goldwater has had a career in concert promotion, movie production, and other aspects of the entertainment business.