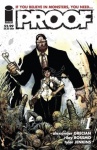 According to C2F, Image's Proof comic book series, which was created by Alex Grecian and Riley Rossmo, has been optioned by Kickstart Entertainment. In Proof, which is sort of a "Bigfoot meets the X-Files" mash-up, the book's protagonist, John "Proof" Prufrock is a sasquatch who works for a secret government agency and hunts down
other "cryptids" (creatures whose existence has been rumored, but not proven). Kickstart is developing Proof as an animated series.
C2F reports that Evan Gore (Futurama) is writing the pilot episode for the new series. Samuel L. Jackson, who has had success as a producer and voice actor with the Afro Samurai anime, is attached to project, and may well provide the voice for "Proof."
Kickstart Entertainment, which was founded by Jason Netter in 1999, specializes in comic book adaptations. Kickstart produced the highly successful movie adaptation of Top Cow's Wanted in 2008 and has a number of other comics-related properties in development including Preacher, The Red Star, The Boys, Monster Attack Network, Dear Dracula,, and The Couriers.