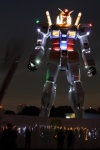 Bandai has constructed a 59-foot monument to Gundam in Odaiba Shiokaze park in Tokyo, to commemorate the 30-year anniversary of the property (picture via Pink Tentacle, which has more). The monument is planned to be a temporary installation that will last through the summer. Gundam first appeared in the Mobile Suit Gundam anime, which began in 1979.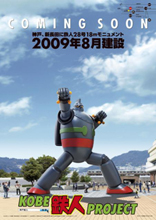 And in a sign that a great idea spawns other great ideas, here's the poster for the similarly-scaled Tetsujin 28 monument planned for
Kobe
City
(from
Dannychoo.com
).
The monument is expected to cost around $1.4 million and will be unveiled in October in Shin-Nagata Kobe.