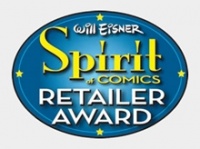 San Diego Comic-Con International has announced the comic stores that are nominees for the Will Eisner Spirit of Comics Retailer Award. Criteria for selection include support of a wide variety of innovative material, knowledge, community activity, quality of store image, and adherence to standard ethical business practices. The finalists are selected by a panel of judges.
The nominees are:
Acme Comics, Greensboro, NC
Big B Comics, Ontario, Canada
Comic Book Ink, Tacoma, WA
Comic Oasis, Las Vegas, NV
Comics & Vegetables, Tel Aviv, Israel
Comicopia, Boston, MA
Cosmic Monkey Comics, Portland, OR
Dragon's Lair Comics & Fantasy, Austin, TX
Drawn To Comics, Glendale, AZ
Happy Harbor Comics, Edmonton, AB, Canada
Krypton Comics, Omaha, NE
Legends Comics, Victoria, BC Canada
OK Comics, Leeds England
Phantom of the Attic, Pittsburgh, PA
Tate's Comics, Fort Lauderdale, FL
The Comic Vault, Chicago, IL
Up, Up & Away, Cincinnati, OH
The winner will be announced next week at Comic-Con.