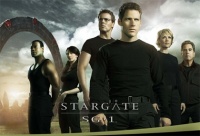 Dynamite Entertainment has obtained the comic book and graphic novel rights to the Stargate franchise from Metro-Goldwyn-Mayer. Three series are planned, one for each of the three shows: Stargate SG-1, Stargate Atlantis, and Stargate Universe.
The prequel comic for Stargate Universe, which premieres in October (see "Robert Carlyle in Stargate Universe"), will feature art by John Watson and story by Chuck Dixon, with covers by Dave Dorman. Stargate Atlantis, beginning with Season Six, will be adapted by Doug Murray; and Stargate SG-1, beginning with Season 11, will be written by Brandon Jerwa.
Diamond will release a $1.00 comic, Stargate #0, to help launch all three titles.
Stargate comics were last published by Avatar in July 2007.