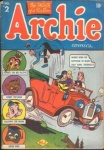 At the San Diego Comic-Con, Dark Horse announced an ambitious plan to reprint Archie Comics flagship title Archie in chronological order in a series of Archie Archive omnibus hardcover editions. IDW recently announced that it would be publishing the Archie newspaper comic strip and some Best Of collections of vintage Archie comics. Dark Horse's Director of Public Relations Jeremy Atkins told ICv2 that "there will probably be some overlap" between Dark Horse's Archie Archives and IDW's Best Of volumes, but the Dark Horse omnibus edition Archie will be the definitive edition of the series, geared toward the same collector audience that buys the Dark Horse omnibus reprints of Gold Key titles such as Magnus, Robot Fighter and Doctor Solar.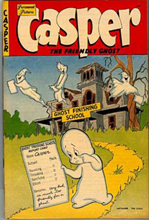 Dark Horse also announced another reprint project at
San Diego
.
Classic Media is celebrating the 60th anniversary of
Casper the Friendly Ghost
this year and to tie-in to that celebration Dark Horse is publishing a
Casper Anniversary Special
, a 64-page hardcover reprint of the first ever
Casper
comic.