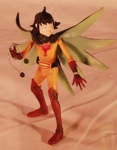 An ICv2 release.
ICv2, with the support of sponsors Dark Horse Comics and Diamond Comic Distributors, is launching its 'Better Than Ever' promotion, which includes point of purchase display materials for retailers, as well as the opportunity to win a set of
Battle of the
Planets Series 1
figures from Diamond Select, plus advice on how to profit from the unprecedented revival of properties from the 1970s and 80s.
The extent and importance of this revival was underscored when Dreamwave Productions' first
Transformers
comic raced to the top of the charts and shocked industry observers by becoming the first 'non-premiere' title ever to top the list of pre-ordered comic books when it captured the top spot for April (see '
Retro Rules in April
').
The fact that Dreamwave is likely to repeat this feat for July demonstrates that this trend is no flash in the pan. The growing number of comics, toys, DVDs, and cards based on vintage properties represent another excellent outreach opportunity for pop culture retailers, who can utilize POP materials like the
Kiss
posters provided by Dark Horse to draw new customers to their stores.
The recent success of the Scooby-Doo live action film, which passed the $100 million mark in just ten days, demonstrates that this nostalgia-tinged trend is not limited to comics, as do the actions of a range of toy companies from the giant conglomerates like Hasbro and Mattel, to collector-oriented companies like Palisades and Diamond Select. Opportunities for cross-marketing these retro TV and comic series abound with toys, cards, DVDs, apparel, and comics available for many of these properties.
Two sponsors are supporting ICv2's 'Better Than Ever' promotion with Dark Horse Comics providing retailers with special free support materials designed to bring customers into your store, and Diamond Comic Distributors providing an exciting contest in which retailers can win a full set of the first series of Battle of the Planets figures.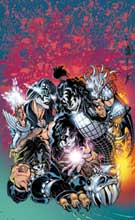 Dark Horse Comics
Dark Horse Comics is getting ready to release the first of its comic series based on the popular 80s rock band, Kiss (see 'Dark Horse Picks Up Kiss Comics'). In order to help retailers reach out to those Kiss fans, who may not already be comic shop customers, Dark Horse will provide retailers with 3 free 24' x 36' full color, two-sided posters that feature the cover to the Kiss comic on the front and an ad for Kiss merchandise on the back. In order to obtain these posters retailers simply need to register at the Dark Horse site and fill out a simple survey. If you have already registered with Dark Horse, you simply need to go the correct page on their website and fill out the survey. Click here to a special web page to request your free Kiss poster.
Diamond Comic Distributors
Diamond Comic Distributors and Diamond Select Toys are bringing the G-Force (Battle of the Planets) back to the generation that grew up with the exploits of Mark, Princess, and Keyop. Originally released in Japan as Gatchaman, then repackaged and brought over to the states as Battle of the Planets, this is one of the earliest examples of anime on American television. The great animation and multidimensional characters struck a chord with young viewers that has stayed with them for over 20 years. These great characters were never released as action figures in the U.S. Now Diamond Select (with the help of figure sculptor Gabriel Marquez and vehicles sculptor SOTA) has brought the G-Force stateside with articulated 7' action figures that feature the characters' signature weapons as well as mini-replica vehicles.
In addition to regular figures, Diamond Select is also producing a Civilian Keyop Action Figure, who comes complete with a new 'civilian' head and a dune buggy, as well as a 6' resin bust of the series villain Zoltar sculpted by Greg Aronowitz, which is limited to 5,000 pieces worldwide. All these figures (a combined $99.95 total value) can be won by retailers who enter their Diamond Comic Distributors account number at the designated page on the Diamond Comic Distributors website. Retailers who are not currently Diamond customers, can enter the contest by e-mailing Diamond Comic Distributors New Accounts Department. To enter the contest for the free Battle of the Planets/G-Force figures, click here.
For an overview of the mega-trend toward nostalgia-tinged properties see 'Better Than Ever.'