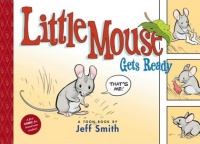 Little Mouse Gets Ready
Toon Books
Release Date: 9/21/2009
$12.95
Creator: Jeff Smith
Format: 32 pgs.; 9"x6"; Hardcover
Age Rating: 4+
ISBN: 978-1-935179-01-6
ICv2 Rating: 4.5 out of 5 Stars
Although it has been a huge success for Scholastic's in-school book clubs, Jeff Smith didn't create the Eisner and Harvey Award-winning
Bone
for kids, but he did fashion
Little Mouse Gets Ready
for Toon Books' series of graphic novels for very young readers, and the result is a simple, subtle miniature masterpiece that is little short of spectacular in its own modest way.
The mostly plain backgrounds frame the fluid, dynamic figure drawings of
Little Mouse
perfectly and no one can deny that Smith has carefully studied how kids dress themselves in order to anthropomorphize his rodent hero with great subtlety in order to facilitate maximum identification between his protagonist and his intended audience of young readers.
Little Mouse Gets Ready
is the perfect book for precocious 4-year-old readers--its simple, but satisfying single joke might not play well with some first and second graders (though they should enjoy reading it to their smaller siblings), but it is guaranteed to please younger kids.
-
Tom Flinn