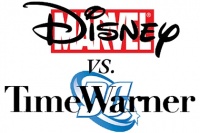 The Disney acquisition of Marvel (see "Disney Buys Marvel") on Monday is another step in the ongoing absorption of comics into Hollywood, and sets the stage for a heavyweight battle between two global entertainment heavyweights. Disney's Marvel and Time Warner's DC can now fight it out on relatively equal footing to see which company can most successfully deploy its characters and storylines over the most platforms in the most countries.
Time Warner is the larger company, with 2008 sales of around $46 billion. Disney's sales last year were around $36 billion, and Marvel will add only around $700 million (08 sales) to that. But Marvel sells more comics and has a stronger movie pipeline, and Disney has an incredible array of assets to deploy in exploiting Marvel properties.
Disney is urging observers to look at how it integrated Pixar, which it acquired in early 2006. If that's the model, comic fans have little to fear, and may have a lot to cheer about. Disney has left the creative minds at Pixar alone, and focused on finding new ways to make money off what they create. It even put Pixar's management team in charge of Disney's own animation studio to find ways to bring new creativity to its legacy properties. Disney's handling of Pixar is a positive sign that CEO Robert Iger will have a light touch when integrating Marvel into the Disney behemoth. "The intention is not to re-brand Marvel Disney, in fact the opposite," Iger told CNBC.
One reason it makes sense for Disney to give Marvel its head is that Marvel brings strength in an area where Disney has been week—boys. Although Pixar's Cars and Toy Story have shown strength among boys, and Pirates of the Caribbean has been a strong boy property, Disney is primarily known for properties that skew more female. Marvel understands intimately the boy, teen male, and young adult male markets, an area where Disney is looking for help.
And while it's taken small steps toward getting that help, like setting up Kingdom Comics to develop new properties (see "Disney Launches Kingdom Comics"), and collaborating with Stan Lee ("Disney Sets Up First Three Stan Lee Projects"), the Marvel acquisition allows it to acquire that expertise wholesale.
Another reason Marvel will probably get plenty of freedom is that like Pixar, Marvel is well run and its financial condition shows it. It has plenty of cash with no financing issues, throws off tons of free cash flow, and has been successful creatively in recent years. "Marvel has a great team of talented people both on the creative and business side," Iger told CNBC. "It's an extremely well run company." In short, there are no signs that Marvel needs a lot of help managing what it's doing.
Some are concerned about the Disneyfication of Marvel, with worry that Disney will try to "clean up" Marvel's content to make it more family friendly. But over the past couple of decades, Disney has become much more open toward content directed at adults and has multiple studios producing such content. It seems unlikely that Disney is unaware of Marvel's grittier content or intends to change its target audience. At this point, Disney isn't much different from any other public company in the range of entertainment it can produce or market, and Marvel's also a public company so subject to the same constraints.
One question that hasn't been answered is where Disney will put Marvel. Disney is all about managing its brands across multiple platforms and territories in order to maximize profits, and organizes that around its primary business segments of Media Networks, Parks and Resorts, Studio Entertainment, and Consumer Products. Will Disney put Marvel in the studios division? Most of Disney's intellectual property flows from its studios to its other divisions, so that kind of organization would probably make more sense than putting Marvel into Disney Publishing. Time Warner has a similar structure; DC is in Warner Bros., not in a publishing unit.
For a look at the non-publishing operations of the two companies and how they fit together, see "How Will Disney Use Marvel?"
For a look at how the publishing operations will shake out, see "Disney's Marvel Comics."