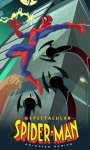 Spectacular Spider-Man showrunner Gary Weisman revealed on his blog this week that Sony has returned the Spider-Man TV rights (under which it had produced Spectacular Spider-Man) to Marvel in exchange for a concession on the Spider-Man live action features.
The show, currently being aired on Disney XD (see "Spectacular Spider-Man Moves to Disney XD"), is in its second season. Now that Sony is out of the picture, Marvel and Disney will have sold control over whether a third season is made, according to Weisman's posts.
Thanks to Newsarama for the link.