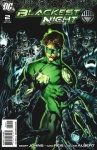 These are estimates of the sales on comic books by Diamond
U.S.
to comic specialty stores during August 2009.
For an overview and analysis of comic sales in August, see "Crossovers Continue On Top."
For an analysis of the dollar trends in August, see "Comics Up Again in August."
For our estimates of actual sales by Diamond
U.S.
from comic specialty stores on graphic novels shipped during August, see "
Top 300 Graphic Novels Actual--August 2009
."
| | | | | | |
| --- | --- | --- | --- | --- | --- |
| | | TOP 300 COMICS -- August 2009 | | | |
| Rank | Index | Title | Price | Pub | Est.Qty |
| 1 | 186.36 | BLACKEST NIGHT #2 (OF 8) | $3.99 | DC | 146,092 |
| 2 | 159.92 | CAPTAIN AMERICA REBORN #2 (OF 5) | $3.99 | MAR | 125,366 |
| 3 | 141.08 | BATMAN AND ROBIN #3 | $2.99 | DC | 110,594 |
| 4 | 130.67 | GREEN LANTERN #45 (BLACKEST NIGHT) | $2.99 | DC | 102,431 |
| 5 | 121.17 | ULTIMATE COMICS AVENGERS #1 | $3.99 | MAR | 94,985 |
| 6 | 120.15 | DARK AVENGERS #8 DAX | $3.99 | MAR | 94,191 |
| 7 | 115.21 | UNCANNY X-MEN #514 DAX | $3.99 | MAR | 90,316 |
| 8 | 114.80 | NEW AVENGERS #56 DKR | $3.99 | MAR | 89,996 |
| 9 | 113.61 | MARVELS PROJECT #1 (OF 8) | $3.99 | MAR | 89,062 |
| 10 | 110.04 | BLACKEST NIGHT BATMAN #1 (OF 3) | $2.99 | DC | 86,261 |
| 11 | 109.72 | ULTIMATE COMICS SPIDER-MAN #1 | $3.99 | MAR | 86,008 |
| 12 | 107.46 | GREEN LANTERN CORPS #39 (BLACKEST NIGHT) | $2.99 | DC | 84,241 |
| 13 | 100.00 | BATMAN #689 | $2.99 | DC | 78,392 |
| 14 | 99.64 | FLASH REBIRTH #4 (OF 6) | $2.99 | DC | 78,107 |
| 15 | 98.80 | HULK #14 | $3.99 | MAR | 77,455 |
| 16 | 98.10 | BLACKEST NIGHT SUPERMAN #1 (OF 3) | $2.99 | DC | 76,899 |
| 17 | 94.75 | AMAZING SPIDER-MAN #601 | $2.99 | MAR | 74,279 |
| 18 | 93.74 | DAREDEVIL #500 | $4.99 | MAR | 73,486 |
| 19 | 91.25 | AMAZING SPIDER-MAN #602 | $2.99 | MAR | 71,532 |
| 20 | 91.04 | HULK #13 DKR | $3.99 | MAR | 71,369 |
| 21 | 90.64 | AMAZING SPIDER-MAN #603 | $2.99 | MAR | 71,051 |
| 22 | 87.50 | DARK WOLVERINE #77 DKR | $2.99 | MAR | 68,593 |
| 23 | 82.62 | BLACKEST NIGHT TITANS #1 (OF 3) | $2.99 | DC | 64,767 |
| 24 | 81.79 | INCREDIBLE HULK #601 | $3.99 | MAR | 64,120 |
| 25 | 80.77 | X-MEN LEGACY #227 DAX | $2.99 | MAR | 63,316 |
| 26 | 79.60 | FANTASTIC FOUR #570 | $2.99 | MAR | 62,401 |
| 27 | 78.23 | MIGHTY AVENGERS #28 | $2.99 | MAR | 61,323 |
| 28 | 75.08 | DETECTIVE COMICS #856 | $3.99 | DC | 58,859 |
| 29 | 73.41 | JUSTICE LEAGUE OF AMERICA #36 | $2.99 | DC | 57,549 |
| 30 | 72.34 | ADVENTURE COMICS #1 | $3.99 | DC | 56,706 |
| 31 | 71.97 | X-FORCE #18 | $2.99 | MAR | 56,421 |
| 32 | 70.72 | DEADPOOL #13 | $2.99 | MAR | 55,442 |
| 33 | 70.03 | DARK X-MEN BEGINNING #3 (OF 3) DAX | $3.99 | MAR | 54,897 |
| 34 | 69.59 | JUSTICE LEAGUE CRY FOR JUSTICE #2 (OF 7) | $3.99 | DC | 54,553 |
| 35 | 69.10 | ARCHIE #600 | $2.50 | ARC | 54,170 |
| 36 | 68.61 | INVINCIBLE IRON MAN #16 DKR | $2.99 | MAR | 53,782 |
| 37 | 68.12 | BUFFY THE VAMPIRE SLAYER #27 CHEN CVR | $2.99 | DAR | 53,403 |
| 38 | 66.58 | BATMAN WIDENING GYRE #1 (OF 6) | $3.99 | DC | 52,191 |
| 39 | 65.98 | BATGIRL #1 | $2.99 | DC | 51,724 |
| 40 | 65.25 | DEADPOOL MERC WITH A MOUTH #2 | $2.99 | MAR | 51,147 |
| 41 | 64.20 | RED ROBIN #3 | $2.99 | DC | 50,329 |
| 42 | 64.12 | DEADPOOL #14 | $2.99 | MAR | 50,263 |
| 43 | 63.04 | JUSTICE SOCIETY OF AMERICA #30 | $2.99 | DC | 49,416 |
| 44 | 62.87 | WOLVERINE WEAPON X #4 | $3.99 | MAR | 49,284 |
| 45 | 57.36 | WOLVERINE ORIGINS #39 | $2.99 | MAR | 44,968 |
| 46 | 51.48 | BATMAN STREETS OF GOTHAM #3 | $3.99 | DC | 40,353 |
| 47 | 51.20 | WAR OF KINGS #6 (OF 6) | $3.99 | MAR | 40,137 |
| 48 | 50.29 | CABLE #17 | $2.99 | MAR | 39,424 |
| 49 | 50.03 | SUPERMAN WORLD OF NEW KRYPTON #6 (OF 12) | $2.99 | DC | 39,218 |
| 50 | 49.89 | SUPERMAN #691 | $2.99 | DC | 39,106 |
| 51 | 49.77 | AVENGERS INITIATIVE #27 | $2.99 | MAR | 39,014 |
| 52 | 49.74 | SECRET WARRIORS #7 | $2.99 | MAR | 38,990 |
| 53 | 49.31 | WEDNESDAY COMICS #5 (OF 12) | $3.99 | DC | 38,657 |
| 54 | 49.19 | NEW MUTANTS #4 | $2.99 | MAR | 38,558 |
| 55 | 49.00 | ULTIMATUM X-MEN REQUIEM #1 | $3.99 | MAR | 38,410 |
| 56 | 48.26 | DEADPOOL SUICIDE KINGS #5 (OF 5) | $3.99 | MAR | 37,831 |
| 57 | 48.22 | WEDNESDAY COMICS #6 (OF 12) | $3.99 | DC | 37,803 |
| 58 | 47.95 | ACTION COMICS #880 | $3.99 | DC | 37,588 |
| 59 | 47.79 | SUPERMAN BATMAN #63 | $2.99 | DC | 37,467 |
| 60 | 46.92 | WEDNESDAY COMICS #7 (OF 12) | $3.99 | DC | 36,783 |
| 61 | 46.91 | GOTHAM CITY SIRENS #3 | $2.99 | DC | 36,772 |
| 62 | 45.88 | WEDNESDAY COMICS #8 (OF 12) | $3.99 | DC | 35,970 |
| 63 | 45.42 | DARK TOWER THE FALL OF GILEAD #4 (OF 6) | $3.99 | MAR | 35,607 |
| 64 | 43.14 | SUPERGIRL #44 | $2.99 | DC | 33,819 |
| 65 | 42.17 | PUNISHER #8 | $2.99 | MAR | 33,057 |
| 66 | 42.16 | X-FACTOR #47 | $2.99 | MAR | 33,052 |
| 67 | 41.69 | INCREDIBLE HERCULES #132 | $2.99 | MAR | 32,680 |
| 68 | 41.15 | SUPERMAN ANNUAL #14 | $3.99 | DC | 32,258 |
| 69 | 41.00 | POWER GIRL #4 | $2.99 | DC | 32,140 |
| 70 | 40.19 | STAND AMERICAN NIGHTMARES #5 (OF 5) | $3.99 | MAR | 31,506 |
| 71 | 40.07 | TITANS #16 | $2.99 | DC | 31,408 |
| 72 | 38.75 | TEEN TITANS #74 | $3.99 | DC | 30,380 |
| 73 | 38.36 | ULTIMATUM FANTASTIC FOUR REQUIEM #1 | $3.99 | MAR | 30,073 |
| 74 | 37.83 | WONDER WOMAN #35 | $2.99 | DC | 29,657 |
| 75 | 36.06 | DOOM PATROL #1 | $3.99 | DC | 28,267 |
| 76 | 36.05 | MS MARVEL #43 DKR | $2.99 | MAR | 28,261 |
| 77 | 35.58 | GUARDIANS OF GALAXY #17 | $2.99 | MAR | 27,893 |
| 78 | 35.49 | X-MEN FOREVER #5 | $3.99 | MAR | 27,825 |
| 79 | 35.23 | BLACK PANTHER 2 #7 | $2.99 | MAR | 27,619 |
| 80 | 35.08 | DARK REIGN SINISTER SPIDER-MAN #3 (OF 4) DKR | $3.99 | MAR | 27,498 |
| 81 | 35.07 | INCREDIBLE HERCULES #133 | $2.99 | MAR | 27,491 |
| 82 | 34.66 | SON OF HULK #14 | $2.99 | MAR | 27,171 |
| 83 | 34.49 | NOVA #28 | $2.99 | MAR | 27,038 |
| 84 | 32.59 | MS MARVEL #44 DKR | $2.99 | MAR | 25,550 |
| 85 | 31.73 | X-MEN FOREVER #6 | $3.99 | MAR | 24,875 |
| 86 | 31.49 | BOYS #33 (MR) | $2.99 | DE | 24,684 |
| 87 | 31.12 | WALKING DEAD #64 (MR) | $2.99 | IMA | 24,393 |
| 88 | 30.82 | SECRET SIX #12 | $2.99 | DC | 24,161 |
| 89 | 30.57 | WAR MACHINE #8 | $2.99 | MAR | 23,961 |
| 90 | 30.43 | OUTSIDERS #21 | $2.99 | DC | 23,856 |
| 91 | 29.92 | DARK REIGN ELEKTRA #5 (OF 5) DKR | $3.99 | MAR | 23,456 |
| 92 | 29.82 | SUPERMAN SECRET FILES 2009 #1 | $4.99 | DC | 23,373 |
| 93 | 29.20 | STAR WARS LEGACY #39 TATOOINE PT 3 (OF 4) | $2.99 | DAR | 22,888 |
| 94 | 29.09 | JSA VS KOBRA #3 (OF 6) | $2.99 | DC | 22,806 |
| 95 | 29.08 | ANGEL #24 | $3.99 | IDW | 22,795 |
| 96 | 28.20 | BOOSTER GOLD #23 | $3.99 | DC | 22,108 |
| 97 | 28.16 | BOYS HEROGASM #4 (OF 6) (MR) | $2.99 | DE | 22,073 |
| 98 | 27.99 | GHOST RIDERS HEAVENS ON FIRE #1 (OF 6) | $3.99 | MAR | 21,944 |
| 99 | 27.91 | FABLES #87 (MR) | $2.99 | DC | 21,876 |
| 100 | 27.81 | EXILES #5 | $2.99 | MAR | 21,799 |
| 101 | 27.05 | WAR OF KINGS WARRIORS #2 (OF 2) | $3.99 | MAR | 21,206 |
| 102 | 26.79 | STAR WARS INVASION #2 (OF 5) | $2.99 | DAR | 21,004 |
| 103 | 26.57 | AGENTS OF ATLAS #9 | $2.99 | MAR | 20,828 |
| 104 | 25.99 | PUNISHER FRANK CASTLE MAX #73 (MR) | $3.99 | MAR | 20,375 |
| 105 | 25.99 | HELLBOY WILD HUNT #5 (OF 8) | $2.99 | DAR | 20,375 |
| 106 | 25.89 | RED CIRCLE THE HANGMAN #1 | $2.99 | DC | 20,295 |
| 107 | 25.71 | BRAVE AND THE BOLD #26 | $2.99 | DC | 20,154 |
| 108 | 25.43 | IRON MAN ARMOR WARS #1 (OF 4) | $2.99 | MAR | 19,935 |
| 109 | 25.40 | DARK REIGN HOOD #4 (OF 5) DKR | $3.99 | MAR | 19,912 |
| 110 | 25.30 | MARVEL COMICS #1 70TH ANNIVERSARY | $4.99 | MAR | 19,835 |
| 111 | 25.03 | RED CIRCLE INFERNO #1 | $2.99 | DC | 19,621 |
| 112 | 24.92 | RED CIRCLE THE WEB #1 | $2.99 | DC | 19,535 |
| 113 | 24.81 | GREEN ARROW BLACK CANARY #23 | $3.99 | DC | 19,452 |
| 114 | 24.35 | RED CIRCLE THE SHIELD #1 | $2.99 | DC | 19,088 |
| 115 | 24.09 | CONAN THE CIMMERIAN #13 | $2.99 | DAR | 18,881 |
| 116 | 23.92 | GI JOE #8 | $3.99 | IDW | 18,750 |
| 117 | 23.73 | STAR WARS DARK TIMES BLUE HARVEST #0 | $2.99 | DAR | 18,601 |
| 118 | 23.66 | BATMAN CONFIDENTIAL #32 | $2.99 | DC | 18,545 |
| 119 | 23.57 | STAR WARS DARK TIMES #14 BLUE HARVEST PT 2 (OF 5) | $2.99 | DAR | 18,477 |
| 120 | 23.36 | PUNISHER NOIR #1 (OF 4) | $3.99 | MAR | 18,315 |
| 121 | 22.36 | HOUSE OF M MASTERS OF EVIL #1 (OF 4) | $3.99 | MAR | 17,528 |
| 122 | 22.17 | PROJECT SUPERPOWERS CHAPTER TWO #2 | $2.99 | DE | 17,377 |
| 123 | 22.13 | RUNAWAYS 3 #13 | $2.99 | MAR | 17,347 |
| 124 | 22.00 | DARK REIGN MISTER NEGATIVE #3 (OF 3) DKR | $3.99 | MAR | 17,248 |
| 125 | 21.75 | SUPERMANS PAL JIMMY OLSEN SPECIAL #2 | $4.99 | DC | 17,051 |
| 126 | 21.73 | STAR WARS KNIGHTS OLD REPUBLIC #44 REAPING PT 2 (OF 2) | $2.99 | DAR | 17,033 |
| 127 | 21.54 | PROJECT SUPERPOWERS MEET THE BAD GUYS #1 | $2.99 | DE | 16,882 |
| 128 | 21.14 | BETA RAY BILL GODHUNTER #3 (OF 3) | $3.99 | MAR | 16,570 |
| 129 | 20.86 | CAPTAIN AMERICA THEATER OF WAR TO SOLDIER ON | $3.99 | MAR | 16,349 |
| 130 | 20.84 | UNWRITTEN #4 (MR) | $2.99 | DC | 16,336 |
| 131 | 20.36 | DARK REIGN ZODIAC #2 (OF 3) DKR | $3.99 | MAR | 15,960 |
| 132 | 20.28 | GI JOE ORIGINS #6 | $3.99 | IDW | 15,898 |
| 133 | 19.93 | INVINCIBLE #65 | $2.99 | IMA | 15,621 |
| 134 | 19.25 | DARKNESS PITT #1 KEOWN CVR A | $2.99 | IMA | 15,091 |
| 135 | 19.00 | BPRD 1947 #2 (OF 5) | $2.99 | DAR | 14,893 |
| 136 | 18.88 | STAR WARS CLONE WARS #8 | $2.99 | DAR | 14,798 |
| 137 | 18.85 | LUKE CAGE NOIR #1 (OF 4) | $3.99 | MAR | 14,776 |
| 138 | 18.73 | ASTRO CITY THE DARK AGE BOOK THREE #4 (OF 4) | $3.99 | DC | 14,684 |
| 139 | 18.70 | MARVEL DIVAS #2 (OF 4) | $3.99 | MAR | 14,662 |
| 140 | 18.51 | JACK OF FABLES #37 (MR) | $2.99 | DC | 14,508 |
| 141 | 18.48 | ANGEL ONLY HUMAN #1 (OF 4) | $3.99 | IDW | 14,489 |
| 142 | 17.56 | CHEW #3 (MR) | $2.99 | IMA | 13,762 |
| 143 | 17.52 | FINAL CRISIS AFTERMATH RUN #4 (OF 6) | $2.99 | DC | 13,738 |
| 144 | 17.23 | SOLOMON GRUNDY #6 (OF 7) | $2.99 | DC | 13,505 |
| 145 | 17.22 | GI JOE SPECIAL HELIX | $3.99 | IDW | 13,498 |
| 146 | 17.05 | ALL WINNERS COMICS #1 70TH ANNIV SPECIAL | $3.99 | MAR | 13,364 |
| 147 | 17.00 | WITCHBLADE #129 SEJIC CVR A | $2.99 | IMA | 13,324 |
| 148 | 16.91 | DARKNESS #79 LUCAS CVR A (MR) | $2.99 | IMA | 13,260 |
| 149 | 16.72 | WOLVERINE FIRST CLASS #18 | $2.99 | MAR | 13,110 |
| 150 | 16.67 | TIMESTORM 2009 2099 #4 (OF 4) | $3.99 | MAR | 13,066 |
| 151 | 16.56 | UNCANNY X-MEN FIRST CLASS #2 (OF 8) | $2.99 | MAR | 12,978 |
| 152 | 16.52 | FINAL CRISIS AFTERMATH ESCAPE #4 (OF 6) | $2.99 | DC | 12,950 |
| 153 | 16.35 | PREDATOR #2 (OF 4) | $3.50 | DAR | 12,818 |
| 154 | 16.32 | EX MACHINA #44 (MR) | $2.99 | DC | 12,796 |
| 155 | 16.08 | HALO HELLJUMPER #2 (OF 5) (MR) | $3.99 | MAR | 12,602 |
| 156 | 15.96 | LAST DAYS OF ANIMAL MAN #4 (OF 6) | $2.99 | DC | 12,510 |
| 157 | 15.90 | JONAH HEX #46 | $2.99 | DC | 12,466 |
| 158 | 15.68 | FINAL CRISIS AFTERMATH DANCE #4 (OF 6) | $2.99 | DC | 12,294 |
| 159 | 15.47 | WORLD OF WARCRAFT #22 | $2.99 | DC | 12,131 |
| 160 | 15.30 | GREEK STREET #2 (MR) | $2.99 | DC | 11,996 |
| 161 | 15.10 | FINAL CRISIS AFTERMATH INK #4 (OF 6) | $2.99 | DC | 11,837 |
| 162 | 14.97 | TRANSFORMERS ALL HAIL MEGATRON #14 | $3.99 | IDW | 11,736 |
| 163 | 14.94 | RED SONJA #47 | $2.99 | DE | 11,709 |
| 164 | 14.90 | REBELS #7 | $2.99 | DC | 11,682 |
| 165 | 14.86 | WITCHFINDER IN THE SERVICE OF ANGELS #2 (OF 5) | $2.99 | DAR | 11,652 |
| 166 | 14.79 | ANITA BLAKE LC NECROMANCER #4 (OF 5) (MR) | $3.99 | MAR | 11,597 |
| 167 | 14.76 | HOUSE OF MYSTERY #16 (MR) | $2.99 | DC | 11,572 |
| 168 | 14.71 | ESCAPE FROM WONDERLAND #1 (OF 6) CVR B MELO | $2.99 | ZEN | 11,530 |
| 169 | 14.63 | STAR TREK NERO #1 | $3.99 | IDW | 11,467 |
| 170 | 14.63 | AOD ASH SAVES OBAMA #1 (OF 4) | $3.50 | DE | 11,467 |
| 171 | 14.47 | LOCKJAW AND THE PET AVENGERS #4 (OF 4) | $2.99 | MAR | 11,340 |
| 172 | 14.36 | DESTROYER #5 (OF 5) (MR) | $3.99 | MAR | 11,254 |
| 173 | 14.32 | BUCK ROGERS #3 | $3.50 | DE | 11,224 |
| 174 | 14.22 | TRANSFORMERS TALES O/T FALLEN #1 (OF 5) | $3.99 | IDW | 11,144 |
| 175 | 14.14 | SKRULL KILL KREW #4 (OF 5) DKR | $3.99 | MAR | 11,082 |
| 176 | 14.04 | GENEXT UNITED #4 (OF 5) | $3.99 | MAR | 11,003 |
| 177 | 13.76 | WARLORD #5 | $2.99 | DC | 10,790 |
| 178 | 13.60 | HELLBLAZER #258 (MR) | $2.99 | DC | 10,665 |
| 179 | 13.60 | TERRY MOORES ECHO #14 | $3.50 | ABS | 10,663 |
| 180 | 13.52 | GRIMM FAIRY TALES #41 CVR A CAMPBELL | $2.99 | ZEN | 10,600 |
| 181 | 13.16 | STRANGE ADVENTURES #6 (OF 8) | $3.99 | DC | 10,316 |
| 182 | 12.82 | THOR TALES OF ASGARD BY LEE & KIRBY #4 (OF 6) | $3.99 | MAR | 10,048 |
| 183 | 12.59 | MADAME XANADU #14 (MR) | $2.99 | DC | 9,873 |
| 184 | 12.00 | INCREDIBLES #0 | $2.99 | BOO | 9,407 |
| 185 | 11.68 | DOMINIC FORTUNE #1 (OF 4) (MR) | $3.99 | MAR | 9,157 |
| 186 | 11.39 | 28 DAYS LATER #1 | $3.99 | BOO | 8,930 |
| 187 | 11.36 | DOCTOR WHO ONGOING #2 | $3.99 | IDW | 8,908 |
| 188 | 11.12 | STAR TREK SPOCK REFLECTIONS #2 | $3.99 | IDW | 8,721 |
| 189 | 11.03 | AUTHORITY #13 | $2.99 | DC | 8,648 |
| 190 | 10.94 | STREET FIGHTER IV #3 (OF 4) A CVR TSANG | $3.95 | UDO | 8,575 |
| 191 | 10.90 | FRANK FRAZETTAS SORCERER FRAZETTA CVR A (ONE SHOT) | $3.99 | IMA | 8,542 |
| 192 | 10.76 | TINY TITANS #19 | $2.50 | DC | 8,432 |
| 193 | 10.70 | VIGILANTE #9 | $2.99 | DC | 8,387 |
| 194 | 10.42 | SONIC THE HEDGEHOG #203 | $2.50 | ARC | 8,166 |
| 195 | 10.27 | STREET FIGHTER II TURBO #8 A CVR CHAMBA | $3.95 | UDO | 8,047 |
| 196 | 10.16 | BLACKEST NIGHT #1 (OF 8) | $3.99 | DC | 7,965 |
| 197 | 10.08 | SHERLOCK HOLMES #4 (OF 5) | $3.50 | DE | 7,898 |
| 198 | 9.79 | DO ANDROIDS DREAM OF ELECTRIC SHEEP #2 (OF 24) CVR A SIENKIE | $3.99 | BOO | 7,676 |
| 199 | 9.78 | SPIRIT #32 | $2.99 | DC | 7,670 |
| 200 | 9.76 | DMZ #44 (MR) | $2.99 | DC | 7,654 |
| 201 | 9.73 | HERO COMICS HERO INITIATIVE BENEFIT BOOK | $3.99 | IDW | 7,625 |
| 202 | 9.65 | SIMPSONS COMICS #157 | $2.99 | BON | 7,565 |
| 203 | 9.64 | ABSOLUTION #1 (OF 6) (MR) | $3.99 | AVA | 7,558 |
| 204 | 9.51 | DOCTOR WHO COLD-BLOODED WAR (ONE SHOT) | $3.99 | IDW | 7,453 |
| 205 | 9.46 | STAR TREK ALIEN SPOTLIGHT Q | $3.99 | IDW | 7,417 |
| 206 | 9.46 | WILDCATS #14 | $2.99 | DC | 7,417 |
| 207 | 9.45 | ASTOUNDING WOLF-MAN #18 | $2.99 | IMA | 7,411 |
| 208 | 9.26 | STREET FIGHTER LEGENDS CHUN LI #4 (OF 4) A CVR DOGAN | $3.95 | UDO | 7,261 |
| 209 | 9.12 | BATMAN THE BRAVE AND THE BOLD #8 | $2.50 | DC | 7,153 |
| 210 | 9.02 | UNKNOWN SOLDIER #11 (MR) | $2.99 | DC | 7,070 |
| 211 | 8.84 | FARSCAPE GONE & BACK #2 | $3.99 | BOO | 6,931 |
| 212 | 8.82 | SCALPED #31 (MR) | $2.99 | DC | 6,916 |
| 213 | 8.77 | SONIC UNIVERSE #7 | $2.50 | ARC | 6,873 |
| 214 | 8.69 | SOULFIRE NEW WORLD ORDER #4 (OF 5) HERRERA CVR | $2.99 | ASP | 6,809 |
| 215 | 8.49 | BATMAN AND ROBIN #1 VAR ED | $2.99 | DC | 6,655 |
| 216 | 8.47 | ZORRO #15 | $3.50 | DE | 6,640 |
| 217 | 8.44 | FARSCAPE DARGOS TRIAL #1 | $3.99 | BOO | 6,613 |
| 218 | 8.42 | DOKTOR SLEEPLESS #13 (MR) | $3.99 | AVA | 6,597 |
| 219 | 8.41 | AIR #12 (MR) | $2.99 | DC | 6,589 |
| 220 | 8.35 | GEN 13 #31 | $2.99 | DC | 6,544 |
| 221 | 8.32 | NORTH 40 #2 (OF 6) | $2.99 | DC | 6,523 |
| 222 | 8.29 | MICE TEMPLAR DESTINY #2 | $2.99 | IMA | 6,501 |
| 223 | 8.28 | THE GOOD THE BAD & THE UGLY #2 | $3.50 | DE | 6,490 |
| 224 | 8.18 | STARCRAFT #3 | $2.99 | DC | 6,410 |
| 225 | 8.14 | BILLY BATSON AND THE MAGIC OF SHAZAM #7 | $2.50 | DC | 6,382 |
| 226 | 8.14 | BATMAN AND ROBIN #2 | $2.99 | DC | 6,379 |
| 227 | 8.03 | MIGHTY #7 | $2.99 | DC | 6,292 |
| 228 | 7.87 | MONSTERS INC LAUGH FACTORY #1 | $2.99 | BOO | 6,172 |
| 229 | 7.70 | SAVAGE DRAGON #151 | $3.50 | IMA | 6,034 |
| 230 | 7.65 | MARVEL SPOTLIGHT SUMMER EVENTS | $3.99 | MAR | 5,999 |
| 231 | 7.63 | RED HERRING #1 (OF 6) | $2.99 | DC | 5,982 |
| 232 | 7.59 | MUPPET SHOW TREASURE OF PEG LEG WILSON #2 (OF 4) | $2.99 | BOO | 5,952 |
| 233 | 7.49 | TYRESE GIBSONS MAYHEM #1 (OF 3) | $2.99 | IMA | 5,868 |
| 234 | 7.41 | GRAVEL #13 (MR) | $3.99 | AVA | 5,812 |
| 235 | 7.39 | BART SIMPSON COMICS #49 | $2.99 | BON | 5,792 |
| 236 | 7.36 | SDCC 2009 DARK X-MEN BEGINNING #1 (OF 3) VAR | $2.25 | MAR | 5,768 |
| 237 | 7.27 | SDCC 2009 DARK AVENGERS UNCANNY X-MEN UTOPIA #1 VAR | $2.25 | MAR | 5,699 |
| 238 | 7.25 | MARVEL ADVENTURES SPIDER-MAN #54 | $2.99 | MAR | 5,684 |
| 239 | 7.20 | MUPPET ROBIN HOOD #3 (OF 4) | $2.99 | BOO | 5,647 |
| 240 | 7.14 | SPIN ANGELS #1 (MR) | $5.99 | MAR | 5,595 |
| 241 | 7.00 | FALLEN ANGEL REBORN #2 | $3.99 | IDW | 5,484 |
| 242 | 6.85 | GARTH ENNIS CHRONICLES OF WORMWOOD LAST BATTLE PREVIEW (MR) | $1.99 | AVA | 5,368 |
| 243 | 6.79 | HACK SLASH SERIES #25 A CVR SEELEY (MR) | $5.50 | DDP | 5,326 |
| 244 | 6.79 | VIKING #3 (MR) | $2.99 | IMA | 5,319 |
| 245 | 6.75 | SUPER FRIENDS #18 | $2.50 | DC | 5,291 |
| 246 | 6.71 | MARVEL ADVENTURES AVENGERS #39 | $2.99 | MAR | 5,259 |
| 247 | 6.67 | MILO VENTIMIGLIA PRESENTS BERSERKER #2 KEOWN CVR A | $2.99 | IMA | 5,225 |
| 248 | 6.64 | FEMALE FORCE #5 PRINCESS DIANA | $3.99 | BLU | 5,206 |
| 249 | 6.58 | STARSTRUCK #1 | $3.99 | IDW | 5,160 |
| 250 | 6.48 | USAGI YOJIMBO #122 | $3.50 | DAR | 5,077 |
| 251 | 6.47 | HACK SLASH SERIES #24 A CVR SEELEY (MR) | $3.50 | DDP | 5,069 |
| 252 | 6.32 | BLACKEST NIGHT TALES OF THE CORPS #2 (OF 3) | $3.99 | DC | 4,954 |
| 253 | 6.24 | TOY STORY MYSTERIOUS STRANGER #4 (OF 4) | $2.99 | BOO | 4,892 |
| 254 | 6.20 | FINDING NEMO REEF RESCUE #2 (OF 4) | $2.99 | BOO | 4,861 |
| 255 | 6.07 | POLITICAL POWER #1 COLIN POWELL | $3.99 | BLU | 4,755 |
| 256 | 5.92 | WEDNESDAY COMICS #4 (OF 12) | $3.99 | DC | 4,643 |
| 257 | 5.79 | GREEN LANTERN #44 (BLACKEST NIGHT) | $2.99 | DC | |