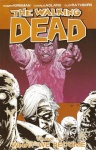 These are estimates of the sales on graphic novels by Diamond
U.S.
to comic specialty stores during August 2009.
For an overview and analysis of comic sales in August, see "Crossovers Continue On Top."
For an analysis of the dollar trends in July, see "Comics Up Again in August."
For our estimates of actual sales by Diamond
U.S.
from comic specialty stores on comic books shipped during August, see "
Top 300 Comics Actual--August 2009
."
TOP 300 GNs -- August 2009

Rank

Index

Title

Price

Pub

Est.Qty

1

19.95

WALKING DEAD TP VOL 10 WHAT WE BECOME

$14.99

IMA

15,643

2

15.93

FABLES TP VOL 12 THE DARK AGES (MR)

$17.99

DC

12,491

3

7.29

IRREDEEMABLE TP VOL 01

$9.99

BOO

5,715

4

6.85

INVINCIBLE TP VOL 11 HAPPY DAYS

$16.99

IMA

5,371

5

6.74

FILTHY RICH HC (MR)

$19.99

DC

5,282

6

6.41

WARREN ELLIS FRANKENSTEINS WOMB GN (MR)

$6.99

AVA

5,023

7

5.54

BATMAN HUSH COMPLETE TP

$24.99

DC

4,339

8

5.52

DARK ENTRIES HC (MR)

$19.99

DC

4,330

9

5.35

THOR BY J MICHAEL STRACZYNSKI TP VOL 02

$19.99

MAR

4,192

10

5.29

SILVER SURFER REQUIEM PREM HC

$19.99

MAR

4,147

11

4.68

SPIDER-MAN PREM HC ONE MORE DAY

$24.99

MAR

3,672

12

4.13

DARK AVENGERS PREM HC VOL 01 ASSEMBLE

$24.99

MAR

3,234

13

3.80

UNKNOWN SOLDIER TP VOL 01 HAUNTED HOUSE (MR)

$9.99

DC

2,975

14

3.68

X-FORCE TP VOL 02 OLD GHOSTS

$14.99

MAR

2,888

15

3.43

UNCANNY X-MEN SISTERHOOD TP

$14.99

MAR

2,691

16

3.39

FINAL CRISIS REVELATIONS HC

$19.99

DC

2,658

17

3.39

TRANSMETROPOLITAN TP VOL 03 YEAR OF THE BASTARD NEW ED (MR)

$12.99

DC

2,658

18

3.38

X-MEN ORIGINAL SIN TP

$14.99

MAR

2,649

19

3.33

TRINITY TP VOL 02

$29.99

DC

2,612

20

3.30

PUNISHER WAR JOURNAL PREM HC VOL 02 GOIN OUT WEST

$24.99

MAR

2,590

21

3.03

SAGA SOLOMON KANE TP

$19.95

DAR

2,377

22

2.97

SECRET SIX UNHINGED TP

$14.99

DC

2,330

23

2.97

PAX ROMANA TP VOL 01

$14.99

IMA

2,326

24

2.97

X-FORCE CABLE MESSIAH WAR HC

$39.99

MAR

2,326

25

2.94

LEGEND OF ZELDA GN VOL 06 FOUR SWORDS PT 1

$7.99

VIZ

2,308

26

2.93

SHOWCASE PRESENTS THE FLASH TP VOL 03

$16.99

DC

2,296

27

2.93

WORLD OF WARCRAFT HC VOL 02

$19.99

DC

2,296

28

2.91

SONIC THE HEDGEHOG ARCHIVES TP VOL 11

$7.95

ARC

2,281

29

2.87

WORLD OF WARCRAFT TP VOL 01

$14.99

DC

2,253

30

2.86

PUNISHER FRANK CASTLE MAX TP SIX HOURS TO KILL

$16.99

MAR

2,243

31

2.86

PUNISHER WAR ZONE TP

$19.99

MAR

2,239

32

2.83

KILLRAVEN PREMIERE HC

$19.99

MAR

2,218

33

2.71

ANGEL AFTER THE FALL TP VOL 01

$19.99

IDW

2,127

34

2.69

NEW AVENGERS PREM HC VOL 06

$19.99

MAR

2,110

35

2.67

SANDMAN BY JOE SIMON AND JACK KIRBY HC

$39.99

DC

2,093

36

2.66

NIGHTWING THE GREAT LEAP TP

$19.99

DC

2,083

37

2.60

CABLE TP VOL 02 WAITING FOR THE END OF THE WORLD

$14.99

MAR

2,041

38

2.60

SPIDER-MAN CRIME AND PUNISHER TP

$14.99

MAR

2,040

39

2.59

MMW AMAZING SPIDER-MAN HC VOL 11

$54.99

MAR

2,032

40

2.55

NEW AVENGERS PREM HC VOL 11 SEARCH FOR SORCERER SUPREME

$19.99

MAR

1,996

41

2.52

MUPPET SHOW TP

$9.99

BOO

1,978

42

2.52

TEEN TITANS CHANGING OF THE GUARD TP

$14.99

DC

1,975

43

2.44

WOLVERINE ORIGINS PREM HC VOL 03 SWIFT AND TERRIBLE

$19.99

MAR

1,916

44

2.44

GIRL GENIUS TP VOL 08 AGATHA & CHAPEL OF BONES

$22.95

STU

1,912

45

2.43

OH MY GODDESS RTL TP VOL 33

$10.95

DAR

1,905

46

2.42

GANTZ TP VOL 06 (MR)

$12.95

DAR

1,899

47

2.42

SUPREME POWER HC VOL 02 (MR)

$29.99

MAR

1,896

48

2.42

VAMPIRE KNIGHT TP VOL 07

$8.99

VIZ

1,896

49

2.41

TMNT COLLECTED BOOK TP VOL 01

$29.95

MIR

1,891

50

2.39

SHOWCASE PRESENTS ECLIPSO TP

$9.99

DC

1,877

51

2.39

ESSENTIAL MARVEL TEAM-UP TP VOL 03

$19.99

MAR

1,870

52

2.35

ASTONISHING X-MEN PREM HC GHOST BOX

$29.99

MAR

1,841

53

2.29

LOCKE & KEY TP VOL 01 WELCOME TO LOVECRAFT

$19.99

IDW

1,799

54

2.24

ROBIN SEARCH FOR A HERO TP

$19.99

DC

1,755

55

2.20

MMW GOLDEN AGE YOUNG ALLIES HC VOL 01

$59.99

MAR

1,723

56

2.17

WOLVERINE ORIGINS PREM HC DARK REIGN

$19.99

MAR

1,699

57

2.14

MMW SUB-MARINER HC VOL 03

$54.99

MAR

1,679

58

2.13

WOLVERINE TP FLIES TO A SPIDER

$16.99

MAR

1,671

59

2.12

AVENGERS FOREVER HC

$34.99

MAR

1,665

60

2.10

PUNISHER DARK REIGN PREM HC

$19.99

MAR

1,648

61

2.08

EERIE ARCHIVES HC VOL 02

$49.95

DAR

1,633

62

2.02

X-MEN LEGACY SALVAGE PREM HC

$24.99

MAR

1,585

63

2.01

GHOST RIDER TRIALS AND TRIBULATIONS TP

$12.99

MAR

1,579

64

1.97

MARVEL ADVENTURES SPIDER-MAN TP VOL 13 DIGEST

$9.99

MAR

1,544

65

1.96

WALKING DEAD TP VOL 01 DAYS GONE BYE

$9.99

IMA

1,540

66

1.95

BOOSTER GOLD REALITY LOST TP

$14.99

DC

1,530

67

1.95

BEYOND WONDERLAND HC

$24.99

ZEN

1,527

68

1.88

RUNAWAYS PRIDE & JOY TP

$14.99

MAR

1,475

69

1.84

MMW INCREDIBLE HULK TP VOL 01

$24.99

MAR

1,445

70

1.83

X-MEN FIRST CLASS TP FINALS GN

$14.99

MAR

1,435

71

1.82

WOLVERINE EVOLUTION BLACK WHITE PREM HC

$19.99

MAR

1,430

72

1.81

ROSARIO VAMPIRE GN VOL 08

$7.99

VIZ

1,422

73

1.80

HEROES REBORN THE RETURN TP

$29.99

MAR

1,408

74

1.78

WATCHMEN TP

$19.99

DC

1,398

75

1.78

MIGHTY AVENGERS PREM HC EARTHS MIGHTIEST

$19.99

MAR

1,396

76

1.78

DC LIBRARY FLASH OF TWO WORLDS HC

$39.99

DC

1,395

77

1.77

SUPREME POWER HC VOL 01 (MR)

$29.99

MAR

1,384

78

1.75

BLACK WIDOW STING OF THE WIDOW PREM HC

$24.99

MAR

1,373

79

1.75

SPIDER-MAN REIGN PREMIERE HC

$19.99

MAR

1,371

80

1.74

AGENTS OF ATLAS PREM HC DARK REIGN

$24.99

MAR

1,363

81

1.72

GREEN LANTERN SINESTRO CORPS WAR TP VOL 01

$14.99

DC

1,348

82

1.71

WOLVERINE FIRST CLASS TP NINJAS GODS AND DIVAS

$12.99

MAR

1,343

83

1.71

DEATH OF THE NEW GODS TP

$19.99

DC

1,341

84

1.71

AUTHORITY WORLDS END TP BOOK 01

$17.99

DC

1,338

85

1.70

BRAVE AND THE BOLD THE BOOK OF DESTINY TP

$17.99

DC

1,335

86

1.70

SPIDER-MAN FAMILY TIES TP

$14.99

MAR

1,329

87

1.65

GREEN LANTERN SINESTRO CORPS WAR TP VOL 02

$14.99

DC

1,297

88

1.65

IMMORTAL IRON FIST PREM HC VOL 05 ESCAPE FROM EIGHTH CITY

$24.99

MAR

1,294

89

1.65

MARQUIS TP VOL 01 INFERNO

$24.95

DAR

1,291

90

1.63

D GRAY MAN GN VOL 14

$7.99

VIZ

1,280

91

1.63

INU YASHA TP VOL 39

$8.95

VIZ

1,275

92

1.59

GREEN LANTERN REBIRTH TP

$14.99

DC

1,250

93

1.55

WET MOON GN VOL 05 (MR)

$14.95

ONI

1,214

94

1.54

FABLES TP VOL 01 LEGENDS IN EXILE

$9.99

DC

1,206

95

1.53

Y THE LAST MAN TP VOL 01 UNMANNED

$12.99

DC

1,201

96

1.52

DEADPOOL CLASSIC TP VOL 01

$29.99

MAR

1,194

97

1.52

ETERNALS TP MANIFEST DESTINY

$12.99

MAR

1,192

98

1.50

DEFENDERS INDEFENSIBLE PREMIERE HC

$19.99

MAR

1,173

99

1.48

NYX TP NO WAY HOME

$19.99

MAR

1,160

100

1.47

METAL MEN TP

$14.99

DC

1,154

101

1.47

YOUNG AVENGERS PREM HC VOL 02 FAMILY MATTERS

$22.99

MAR

1,152

102

1.44

SPIDER-MAN MARY JANE TP YOU JUST HIT THE JACKPOT

$24.99

MAR

1,131

103

1.43

REIGN IN HELL TP

$19.99

DC

1,121

104

1.42

TOY STORY MYSTERIOUS STRANGER TP

$9.99

BOO

1,116

105

1.38

FINAL CRISIS HC

$29.99

DC

1,083

106

1.38

SQUADRON SUPREME TP BRIGHT SHINING LIES

$14.99

MAR

1,080

107

1.38

ULTIMATE X-MEN ULTIMATE COLLECTION TP VOL 03

$29.99

MAR

1,078

108

1.37

BATMAN RIP DELUXE EDITION HC

$24.99

DC

1,075

109

1.34

AVENGERS INITIATIVE PREM HC VOL 04 DISASSEMBLED

$24.99

MAR

1,054

110

1.34

GURREN LAGANN GN VOL 02

$10.99

BAN

1,054

111

1.33

WALKING DEAD TP VOL 09 HERE WE REMAIN (MR)

$14.99

IMA

1,041

112

1.33

ULTIMATE X-MEN HC VOL 09

$34.99

MAR

1,040

113

1.31

WALKING DEAD TP VOL 02 MILES BEHIND US (NEW PTG)

$14.99

IMA

1,026

114

1.29

BLACK LAGOON GN VOL 07 (MR)

$12.99

VIZ

1,015

115

1.29

STEPHEN COLBERTS TEK JANSEN HC

$19.95

ONI

1,013

116

1.23

X-FACTOR TIME AND A HALF PREM HC

$24.99

MAR

965

117

1.22

GREEN LANTERN RAGE OF THE RED LANTERNS HC

$24.99

DC

959

118

1.22

FAHRENHEIT 451 GN

$16.95

ST.

955

119

1.22

BRIT TP VOL 03

$16.99

IMA

953

120

1.21

ULTIMATE IRON MAN PREM HC VOL 01 BOOKSTORE VAR ED

$19.99

MAR

950

121

1.21

KILLER OF DEMONS TP

$12.99

IMA

948

122

1.21

NAOKI URASAWA 20TH CENTURY BOYS GN VOL 04

$12.99

VIZ

948

123

1.20

JENNIFERS BODY HC

$24.99

BOO

943

124

1.20

Y THE LAST MAN TP VOL 02 CYCLES (MR)

$12.99

DC

941

125

1.19

BATMAN THE KILLING JOKE SPECIAL ED HC

$17.99

DC

936

126

1.19

MIGHTY AVENGERS PREM HC VOL 01 ULTRON INITIATIVE

$19.99

MAR

930

127

1.19

RICHARD STARKS PARKER THE HUNTER HC

$24.99

IDW

929

128

1.18

FANTASTIC WORLDS OF FRANK FRAZETTA TP VOL 01

$19.99

IMA

926

129

1.18

BOYS TP VOL 04 WE GOTTA GO NOW (MR)

$19.99

DE

922

130

1.15

PREACHER TP VOL 01 GONE TO TEXAS NEW EDITION (MR)

$14.99

DC

903

131

1.13

GARGOYLES CLAN BUILDING TP VOL 02

$19.95

SLA

884

132

1.13

GHOST RIDER TRAIL OF TEARS PREMIERE HC

$19.99

MAR

883

133

1.12

HIKARU NO GO TP VOL 16

$7.95

VIZ

880

134

1.12

BATMAN WHATEVER HAPPENED TO THE CAPED CRUSADER HC

$24.99

DC

875

135

1.11

BATTLESTAR GALACTICA OMNIBUS TP VOL 01

$24.99

DE

869

136

1.09

SPIDER-MAN AND THE HUMAN TORCH HC

$19.99

MAR

855

137

1.09

ANGEL SMILE TIME HC

$24.99

IDW

852

138

1.08

TERMINATOR REVOLUTION TP

$19.99

DE

847

139

1.08

100 BULLETS TP VOL 13 WILT (MR)

$19.99

DC

845

140

1.07

SANDMAN TP VOL 01 PRELUDES & NOCTURNES

$19.99

DC

841

141

1.05

WALKING DEAD TP VOL 03 SAFETY BEHIND BARS

$14.99

IMA

827

142

1.05

EXILES ULTIMATE COLLECTION TP BOOK 02

$34.99

MAR

826

143

1.04

100 BULLETS TP VOL 01 FIRST SHOT LAST CALL

$9.99

DC

818

144

1.04

KINGDOM COME TP NEW EDITION

$17.99

DC

813

145

1.03

BATMAN DARK KNIGHT RETURNS TP

$14.99

DC

811

146

1.03

ULTIMATE FANTASTIC FOUR HC VOL 06

$34.99

MAR

811

147

1.01

FANTASTIC FOUR NEW FANTASTIC FOUR PREM HC

$19.99

MAR

794

148

0.99

TRANSFORMERS ANIMATED TP ALLSPARK ALMANAC

$19.99

IDW

780

149

0.99

MIDDLEMAN DOOMSDAY ARMAGEDDON APOCALYPSE GN

$7.95

VIP

774

150

0.99

COMPLETE ESSEX COUNTY TP

$29.95

TOP

773

151

0.98

UMBRELLA ACADEMY TP VOL 01 APOCALYPSE SUITE

$17.95

DAR

767

152

0.97

Y THE LAST MAN TP VOL 03 ONE SMALL STEP (MR)

$12.99

DC

760

153

0.96

CIVIL WAR TP

$24.99

MAR

752

154

0.95

V FOR VENDETTA NEW EDITION TP (MR)

$19.99

DC

748

155

0.95

WALKING DEAD TP VOL 04 HEARTS DESIRE (NEW PTG)

$14.99

IMA

748

156

0.95

BOMB QUEEN OMNIBUST HC VOL 01 (MR)

$39.99

IMA

747

157

0.95

TICK SPECIALS COMPLETE WORKS TP

$35.00

NEW

747

158

0.95

LOCAS HC VOL 02 MAGGIE HOPEY & RAY

$39.99

FAN

742

159

0.93

VAMPIRE DANCE TP

$16.95

DAR

728

160

0.92

TRANSMETROPOLITAN TP VOL 01 BACK ON THE STREET (MR)

$14.99

DC

722

161

0.92

POKEMON ADVENTURES TP VOL 02 2ND ED

$7.99

VIZ

721

162

0.91

WALKING DEAD TP VOL 08 MADE TO SUFFER (MR)

$14.99

IMA

717

163

0.91

Y THE LAST MAN TP VOL 04 SAFEWORD (MR)

$12.99

DC

716

164

0.91

COMPLETE TRANSFORMERS ARK TP

$29.99

IDW

715

165

0.88

DOMO GN

$9.99

TOK

692

166

0.88

ROSE GN GRAPHIX ED

$10.99

SCH

690

167

0.88

WOLVERINE ORIGINS TP VOL 05 DEADPOOL

$19.99

MAR

688

168

0.88

Y THE LAST MAN TP VOL 05 RING OF TRUTH (MR)

$14.99

DC

686

169

0.87

PREACHER TP VOL 02 UNTIL THE END OF THE WORLD NEW EDITION (M

$14.99

DC

685

170

0.86

DOGS TP VOL 01 (MR)

$12.99

VIZ

675

171

0.86

FABLES TP VOL 02 ANIMAL FARM

$12.99

DC

672

172

0.85

UBU BUBU TP VOL 01 FILTH (MR)

$12.95

SLA

664

173

0.84

Y THE LAST MAN TP VOL 07 PAPER DOLLS (MR)

$14.99

DC

662

174

0.83

GARGOYLES BAD GUYS TP VOL 01

$17.95

SLA

647

175

0.82

BLACK BIRD GN VOL 01

$8.99

VIZ

642

176

0.82

SHRAPNEL TP ARISTEIA RISING

$14.95

RAL

639

177

0.81

UNIVERSAL WAR ONE PREM HC REVELATIONS

$24.99

MAR

637

178

0.80

DEADPOOL TP VOL 01 SECRET INVASION

$14.99

MAR

629

179

0.80

WALKING DEAD TP VOL 05 BEST DEFENSE (NEW PTG)

$14.99

IMA

625

180

0.79

BOYS TP VOL 01 NAME OF THE GAME (MR)

$16.99

DE

623

181

0.79

MOUSE GUARD HC VOL 02 WINTER 1152

$24.95

ARC

623

182

0.79

Y THE LAST MAN TP VOL 09 MOTHERLAND (MR)

$14.99

DC

620

183

0.79

WALKING DEAD TP VOL 06 SORROWFUL LIFE (MR)

$12.99

IMA

618

184

0.79

YOUNG LOVECRAFT GN

$14.95

KET

617

185

0.78

100 BULLETS TP VOL 02 SPLIT SECOND CHANCE

$14.99

DC

614

186

0.78

Y THE LAST MAN TP VOL 06 GIRL ON GIRL (MR)

$12.99

DC

612

187

0.77

PREACHER TP VOL 03 PROUD AMERICANS NEW EDITION (MR)

$14.99

DC

607

188

0.77

NARUTO TP VOL 45

$7.95

VIZ

606

189

0.77

WALKING DEAD TP VOL 07 THE CALM BEFORE (MR)

$12.99

IMA

606

190

0.76

Y THE LAST MAN TP VOL 08 KIMONO DRAGONS (MR)

$14.99

DC

593

191

0.75

NORTHLANDERS TP VOL 01 SVEN THE RETURNED (MR)

$9.99

DC

589

192

0.75

OOKU INNER CHAMBERS GN VOL 01

$12.99

VIZ

588

193

0.75

MARVEL ADVENTURES FANTASTIC FOUR TP 4 3 2 1 DIGEST

$9.99

MAR

587

194

0.74

NINJA GIRLS GN VOL 01 (MR)

$10.99

RAN

584

195

0.74

CYBERTRONIAN TRANSFORMERS GUIDE PKT MANGA VOL 01

$24.95

ANT

582

196

0.74

SUPERMAN RED SON TP

$17.99

DC

582

197

0.74

WARCRAFT LEGENDS GN VOL 05 (OF 5)

$10.99

TOK

578

198

0.74

JAMES BOND TP GIRL MACHINE

$19.95

TIT

577

199

0.73

NORTHLANDERS TP VOL 02 THE CROSS AND THE HAMMER (MR)

$14.99

DC

575

200

0.73

BATMAN THE LONG HALLOWEEN TP

$19.99

DC

573

201

0.73

HOT MOMS WORKING MOMS TP (A)

$9.95

ERO

569

202

0.72

ARKHAM ASYLUM ANNIVERSARY ED SC (MR)

$17.99

DC

568

203

0.72

EYESHIELD 21 TP VOL 27

$7.99

VIZ

565

204

0.72

SCOTT PILGRIM GN VOL 01 SP PRECIOUS LITTLE LIFE (MAY042851)

$11.95

ONI

562

205

0.71

WAQ WAQ GN VOL 01

$7.99

VIZ

555

206

0.71

GREEN LANTERN CORPS SINS OF THE STAR SAPPHIRE TP

$14.99

DC

554

207

0.71

WITCHBLADE TP VOL 01 WITCH HUNT (DIRECT MARKET ED)

$4.99

IMA

554

208

0.71

HAYATE COMBAT BUTLER TP VOL 12

$9.99

VIZ

553

209

0.70

TRANSFORMERS BEST O/T UK OMNIBUS

$19.99

IDW

549

210

0.70

GREEN LANTERN NO FEAR TP

$12.99

DC

547

211

0.70

SPARROW HC VOL 12 SERGIO TOPPI

$11.99

IDW

547

212

0.69

GREEN LANTERN REVENGE OF THE GREEN LANTERNS TP

$12.99

DC

544

213

0.68

BORDERLINE TP VOL 03

$19.99

DE

532

214

0.68

TUROK SON OF STONE ARCHIVES HC VOL 03

$49.95

DAR

532

215

0.68

OTOMEN GN VOL 03

$8.99

VIZ

531

216

0.68

SUPREME POWER PREM HC HYPERION

$24.99

MAR

531

217

0.68

WOLVERINE ORIGINS TP VOL 02 SAVIOR

$13.99

MAR

531

218

0.67

FABLES TP VOL 11 WAR AND PIECES (MR)

$17.99

DC

526

219

0.67

Y THE LAST MAN TP VOL 10 WHYS AND WHEREFORES (MR)

$14.99

DC

526

220

0.67

JOKER HC

$19.99

DC

525

221

0.67

OLD MAN WINTER & OTHER SORDID TALES GN (MR)

$6.95

BIR

525

222

0.67

PREACHER TP VOL 04 ANCIENT HISTORY NEW EDITION (MR)

$14.99

DC

522

223

0.66

BTVS SEASON 8 TP VOL 04 TIME OF YOUR LIFE

$15.95

DAR

520

224

0.66

TALES FROM THE CRYPT GN VOL 07 SOMETHING WICCA

$7.95

NBM

519

225

0.66

LORDS OF AVALON HC KNIGHT OF DARKNESS

$19.99

MAR

516

226

0.66

SANDMAN TP VOL 02 THE DOLLS HOUSE

$19.99

DC

515

227

0.65

BOYS TP VOL 03 GOOD FOR THE SOUL (MR)

$19.99

DE

513

228

0.65

IKIGAMI ULTIMATE LIMIT GN VOL 02 (MR)

$12.99

VIZ

510

229

0.64

BATMAN YEAR ONE DELUXE SC

$14.99

DC

504

230

0.63

DEADPOOL CLASSIC TP VOL 02

$29.99

MAR

497

231

0.63

FABLES TP VOL 04 MARCH OF THE WOODEN SOLDIERS (MR)

$17.99

DC

496

232

0.63

GREEN LANTERN TALES OF THE SINESTRO CORPS TP

$14.99

DC

495

233

0.63

HEXED HC

$19.99

BOO

495

234

0.63

FABLES TP VOL 03 STORYBOOK LOVE (MR)

$14.99

DC

493

235

0.62

GREEN LANTERN WANTED HAL JORDAN TP

$14.99

DC

485

236

0.61

SECRET INVASION TP

$29.99

MAR

481

237

0.59

TRANSFORMERS REVENGE FALLEN MOVIE PREQ ALLIANCE TP

$17.99

IDW

466

238

0.59

THOR BY J MICHAEL STRACZYNSKI TP VOL 01

$14.99

MAR

465

239

0.59

LAVA IS A FLOOR HC

$12.99

IMA

463

240

0.59

FROM HELL TP

$35.00

TOP

460

241

0.58

A D NEW ORLEANS AFTER DELUGE GN

$24.95

RAN

458

242

0.58

BOYS TP VOL 02 GET SOME (MR)

$19.99

DE

458

243

0.58

MADAME XANADU TP VOL 01 DISENCHANTED (MR)

$12.99

DC

458

244

0.58

RECORD OF A FALLEN VAMPIRE GN VOL 06

$9.99

VIZ

453

245

0.57

BLADE SINS OF FATHER TP

$14.99

MAR

449

246

0.57

PREACHER TP VOL 05 DIXIE FRIED NEW EDITION (MR)

$14.99

DC

449

247

0.57

FABLES TP VOL 10 THE GOOD PRINCE (MR)

$17.99

DC

448

248

0.57

LOEG VOL TWO TP

$14.99

DC

446

249

0.57

WARREN ELLIS FRANKENSTEINS WOMB HC (MR)

$16.99

AVA

446

250

0.56

FABLES TP VOL 06 HOMELANDS (MR)

$14.99

DC

437

251

0.55

SANDMAN TP VOL 03 DREAM COUNTRY

$14.99

DC

435

252

0.55

BTVS SEASON 8 TP VOL 01 LONG WAY HOME

$15.95

DAR

433

253

0.55

FABLES TP VOL 05 THE MEAN SEASONS (MR)

$14.99

DC

432

254

0.54

GREEN LANTERN SECRET ORIGIN HC

$19.99

DC

427

255

0.54

FABLES TP VOL 07 ARABIAN NIGHTS AND DAYS (MR)

$14.99

DC

426

256

0.54

GESTALT GN VOL 02

$8.99

VIZ

425

257

0.54

ESSENTIAL PARKER SPECTACULAR SPIDER-MAN TP VOL 04

$19.99

MAR

420

258

0.54

WIZARD WOLVERINE MASTERPIECE EDITION DLX HC

$29.99

WIZ

420

259

0.53

SAYONARA ZETSUBO SENSEI GN VOL 03

$10.99

RAN

414

260

0.53

SCALPED TP VOL 01 INDIAN COUNTRY (MR)

$9.99