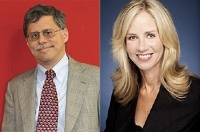 We were able to spend some time with Diane Nelson, the new President of DC Entertainment, and Paul Levitz, who's transitioning from President and Publisher of DC Comics (see "Warners Forms DC Entertainment"), to talk about the new entity being formed at Warner Bros. to include DC, the timing, the role of the comic store channel, the next publisher, plans for DC movies and other entertainment, and digital comics.
Why did you do this now, rather than sooner or later?
Nelson: We took the amount of time we thought it took to get it right. We've been discussing this internally for some time. "This' being, what's the best way to set up an optimal organization and process and take advantage of where the company's going in the future. So we've been discussing this for probably a couple of years, off and one, and then we got very focused about it in the last few months, and we took the time that we needed to. It felt right to do it now.
There's been some speculation that recent events with the recent Disney Marvel deal might have altered that schedule. Did it?
Nelson: No, it did not, actually. I will not deny that I was disappointed that they announced first, but I actually think it's good for the whole business and really demonstrated the value of what these companies and their libraries mean.
So no, we really didn't.
I think probably we maybe would have taken a little bit more time to get, as I've been referring to it, the meat on the bone in terms of our content plans and perhaps waited even longer, but this felt like the right time.
We assume the headquarters of DC Entertainment will be in the Los Angeles area. Are there any plans to consolidate, to move publishing to California?
Nelson: Our focus is going to be figuring out how we integrate DC Comics and DC Entertainment into Warner Bros. and we're going to spend a lot of time with Paul's guidance and my thoughts understanding the business and how we do that best for the future, so there really aren't any plans to do any of the specific things you just asked.
Part of our audience is the comic store proprietors. Diane, could you tell us your impressions of the comic store channel, and what you think about its role for DC Comics and in the larger picture of DC Entertainment?
Nelson: This is an area that first of all, admittedly, I have a lot more to learn about. I also am very aware that in my colleague Paul I have someone who understands that channel better than almost anyone. My focus is going to necessarily need to be how do we protect the core business and by extension the retailers who are the foundation of that, while also looking to build and grow the business for the future. I certainly appreciate the cultural and business value that those stores, their owners, and their customers provide for this whole business. And what that looks like for the future is going to take a whole lot of conversation with lots of people, not the least of whom is Paul.
Levitz: The other thing I'd add to that is that one of the inherent challenges of DC is that our business spreads across so many different media, so many different forms, so many different channels of distribution, that nobody is ever expert in all of them. My expertise certainly was strongest the closer you got to the core comic book, to the core publishing business because that's what I had grown up in and with and loved. And I would find myself in conversations, when I got more involved in the film side of the business, with film guys where I couldn't add the right amount to the conversation because I just didn't have the background. I didn't know the relative weight of one actor vs. another actor or one distribution pattern you might use versus another pattern, or a different marketing approach. So I always added people around me who had that differentiated expertise to try and make it up.
I think Diane is very much at that beginning phase where she's putting a team together, hopefully including a lot of existing DC people but hopefully also including some fresh people for the fresh vision that she will have for it. I don't think there will be a shortage of expertise in the comic shop end of the world at DC when we're done with that team, but that expertise is not going to come disproportionately from Diane herself.
She'll go in to secret shop with her kids, but she's never going to be as enmeshed in that as I was. But she'll bring a different set of things to it that I was unable to and that's just a different way of balancing out the team.
That brings us to our next question, which is that you've said you're looking for a new publisher. What are you looking for in a new publisher for DC?
Nelson: A passion for, and knowledge of, and integrity about the publishing business.
I feel it's important to reinforce there is not a covert plan to replace Paul with a suit. Paul is so looking forward to writing that I've been saying I'm going to be holding on to him by the ankles, and I think we're going to be looking for…, it's hard to say someone like Paul, it doesn't work that way. But we're going to be looking for a real publisher. This is not about replacing someone with a cyborg unit that will answer to me. We want a publishing expert.
It seems like one of the goals is to foster closer cooperation between the development of the intellectual property in other media and comics. Can you talk at all in general about how you hope to achieve that goal, and how that relates to DC's existing operation in Hollywood with Gregory Noveck (see "DC Gets Its Man in Hollywood") and the writers that are out there (see "Johns to Produce Flash Movie")?
A few things. One is that the announcement we made yesterday and what we're trying to achieve here is about focus, and about prioritization so that we are giving DC and its library even more attention and focus moving forward. But it's about incremental value rather than about what we haven't been doing right to date. So if you look back over the last several years, there's clearly been a tremendous amount that we've done as a company behind DC. The hope here is that we have a greater focus with the businesses who are content and distribution experts and the experts at DC comics to work together to bring more of these stories, both the big, prominent properties that you've seen and everyone talks about as well as lesser known ones, incubating lesser known properties and maybe lesser known talent.
There's a really widely known collaboration occurring among Geoff Johns, Grant Morrison, and Marv Wolfman and our Warner Pictures team that Paul has been involved in putting in place, Gregory is involved with, and I think that's a good example of the type of cooperation and collaboration that we've not only been doing but want to be doing more of moving forward. So I think that's representative of what this is about and we'll work to do it even better in the future.
Do you have any goals for the number of features you're trying to produce in 2011, 2012, or any particular future year?
Nelson: We'll be talking a lot more about our content slate among not only Warner Pictures, but also Warner Television, Warner Interactive, Warner Home Video, etc. in the first quarter of 2010. There's a great deal underway right now, but I think the two short answers to the question are:
More detail on that in the first quarter.
And, it won't be about quantity, it will be about the right number to do it well.
Quantity vs. quality is something Warner Brothers doesn't really debate. It's about quality, so that's what we'll focus on, but you'll probably see an increased number of titles across all of our businesses.
There was some talk in the release about digital, which referred to motion comics. Do you feel that's a viable long term medium that you want to do more of?
Nelson: That's been a really nice collaboration among DC Comics and Warner Premier and our Warner Digital Distribution Group. I won't say that anyone in the industry has figured out how to monetize digital anything to a point where viable is necessarily the word I would say, but what we like about it collectively is that it's a great first step in trying to understand how we take the underlying material from the publishing world and enhance or modify it to be specifically suited to the medium of digital.
We don't believe, have never believed, won't believe that pan and scan or taking the physical books and just dropping them into digital is the right solution. Each medium has its own user interaction and consumers expect a certain thing from it and we want to make sure we're tailoring it. So I think motion comics is a good step in the right direction. We're not there yet and there's still a lot more to learn, but it's been good, and we want to do more of it.
Levitz: And from another direction, I'd say for at least the last eight or nine years I've been engaged in conversations out here with a succession of people about how our characters can live online in storytelling or live in other new digital delivery methods. And much of what we've done in that time, whether it's been work for commercial clients, or the motion comics, or internal experiments promotionally, has just been to start to build up a knowledge base of how to play with these parts.
There will be forms that will emerge that will make sense for all of this in our culture. I don't think anybody has found the final version of them yet. I don't think we're pretending we have, but we may be further along in some people in terms of that experimentation because you don't learn unless you explore. We're looking at everything everybody else does, and we're looking at stuff we do that we're not showing the world, and we're playing and hopefully in it we'll find fun stuff that will ultimately be important to the world. I'd love to end up writing some of that in the next couple of years. There's a pitch I made in, I think, 2001 for a Batman project that probably the technology exists to do today and if I can manage to talk them into doing it...
When I got bounced out the first time, it was "Oh my God, that would cost millions!"
Nelson: (Not so much any more.)
Levitz:

…maybe that will be one of the good steps.

I haven't pitched that one yet.