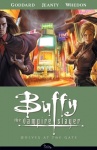 Buffy the Vampire Slayer creator Joss Whedon announced his intention to write a Buffy Season Nine comic book series after the current Buffy Season Eight series ends its projected run with 40 issues, according to an interview with Tim Leong on Complex.com.
While
Buffy Season Eight
still has a dozen issues to run before it hits #40, the series has been a hit in periodical form in the direct market and in trade paperback collections in the bookstore market where it is Dark Horse's bestselling title.
Whedon told Complex.com that he still had a handful of issues of Buffy Season Eight to write before catching his breath and starting work on Season Nine, which he promised would represent quite a change from Season Eight: "I have had for a long time a conception for Season Nine that is very different from Season Eight. It may not run as long, because 40 issues sounds great until you realize that it's four or five years.