In addition to Christian de Metter's adaptation of Dennis Lehane's Shutter Island (see "Shutter Island Graphic Novel"), Tokyopop has announced two other major movie-related graphic novel releases for 2010, The Cabin in the Woods, based on horror film by Joss Whedon due out on February 5th, and Priest: Purgatory, based on the movie starring Paul Bettany that is based on the manhwa by Min-WooHyung.
Tokyopop has also announced four new manga including Ratman, a fascinating Japanese take on the superhero genre from Sekihiko Inui, the creator of Murder Princess and Comic Party. The ongoing 5-volume shonen series, which debuts here in May, features a teenage protagonist who receives some special powers thanks to medical experiments gone awry.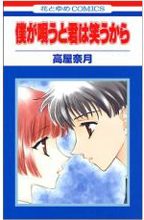 Also due in May is
Songs and Laughter
, a collection of early manga short stories from
Fruits Basket
creator Natsuki Takaya, and
Fruits Basket: Banquet
, a fanbook devoted to the hugely popular
shojo
series.
Banquet
covers the final nine books of top-selling
shojo
manga in
U.S.
history.
In August Tokyopop is releasing .hack//LINK, the latest manga from the popular multi-media .hack property. The story takes place in 2020 some three years after the events of .hack//GU. So far one volume of the ongoing shonen .hack//LINK manga has been released in Japan. Also due out in August is the first volume in the Qwaser & Stigmata, a sexy, fan-service-filled saga featuring a silver-haired teenager and set in St. Mikhailov Academy. The Qwaser manga, which has reached 7 volumes in Japan, appears in the ecchi-loaded Champion Red manga magazine.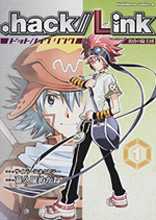 Tokyopop is also releasing five
yaoi
one-volume manga under its Blu imprint including
Croquis
by Hinako Takanaga,
Blood Honey
by Sakyo Yozakura,
Love Knot
by Lemon Ichijo,
Cute Demon
by Hiro Madarame, and
Love Story in the Isolated Island
by Duo Brand.