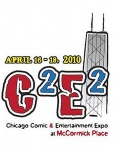 Both Reed Exhibitions (organizers of the New York Comic Con and C2E2), and Wizard (which runs shows in Chicago, Philadelphia, New York, and has announced two new shows) have announced professional conferences in the same week in April, prior to their respective consumer shows.
Reed struck first, announcing on the show blog on Wednesday that it was hosting the Comic Studies Conference, a new conference to be held in conjunction with C2E2, its new Chicago show at McCormick Place, launching next April (see "Reed Announces C2E2"). The conference will be a collaboration between Reed and the Institute for Comic Studies, which also organizes Comics Art Conference sessions at San Diego Comic-Con and Wondercon.
Then on Friday, new company GeekChicDaily (see "Shamus, Partners Launch GeekChicDaily") announced that it would host a new event, Geek Chic University, in conjunction with Anaheim Comic-Con, Wizard's new show in southern California (see "Wizard Returns to SoCal"). That show, of course, was scheduled head to head with Reed's new Chicago show. Chicago has long been Wizard territory, and the location of the first show it acquired (see "Wizard World Transforms").
The dueling conferences add another front to the competition between Wizard and Reed, which up to this point has been confined to consumer shows.