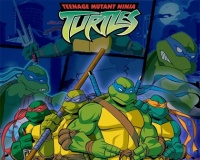 Nickelodeon has acquired global intellectual property rights to Teenage Mutant Ninja Turtles from Mirage Group and 4Kids. Nick plans to launch a new CG-animated TMNT TV series in 2012; it also plans a TMNT feature film, in partnership with sister company Paramount Pictures, for 2012.
Nickelodeon paid a total of $60 million. Mirage Group got the bulk of the bucks; 4Kids got $9.75 million at closing (with up to another $1 million possible later) for relinquishing its licensing rights, which were not due to expire until 2012.
The current TV show will continue to air on CW4Kids through the end of the 2009/2010 season, and the licenses of Playmates and other TMNT licensees will continue with a "seamless transition."
The Teenage Mutant Ninja Turtles property was 25 years old this year (see "Turtles 25th Anniversary"); the first issue of the comic on which the property was based was released in 1984, spawning a b/w comic boom that ran several years.