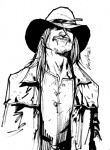 Vertigo will launch a new ongoing comic series, American Vampire, with a special collaboration between horror fiction uber-brand Stephen King and series writer Scott Snyder and artist Rafael Albuquerque, according to a post on the Vertigo blog. King and Snyder will each write a different story as part of the first five-issue story arc, which will kick off in March.
King's story will introduce Skinner Sweet, a bank-robbing murdering cowboy of the 1880s who's also the first American vampire. Snyder's story introduces the character Pearl, who's a Jazz age habitué of Hollywood's speakeasies, looking for her big break.
Snyder is a short story author best known for Voodoo Heart, his first collection. Albequerque handled art on Superman/Batman (DC) and Crimeland (Image). Snyder and Albequerque will continue the series on their own after the five-shot intro arc.