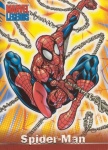 The Topps Company is readying its second series of Marvel cards for an April release. Given both the number of series of Marvel cards produced over the years and the size of each of those issues, there is no doubt that Marvel cards represent the biggest non-sports card license of all time. The series originated at SkyBox and then went to Fleer, which at that time was a part of Ronald Perelman's ill-fated youth entertainment empire. Under pressure to increase sales every quarter, and faced with a precipitously declining card market, Fleer ran the Marvel card franchise into the ground by issuing series after series of cards, each less successful than its predecessor until public apathy turned to antipathy and the series ground to a halt in 1998.
Last year Topps, aware of the potential of cards based on America's best selling comics, picked up the Marvel trading card license. Topps has proceeded very cautiously, issuing just one series of cards based on the X-Men movie in 2000. The X-Men movie cards were highly successful, ranking as the #1 non-sports card of the year with most distributors. Now, almost a year later, Topps is readying a new series, its first Marvel series based on comic art, which features line art by some of today's top pencilers including, Steve Dillon, Randy Green, Humberto Ramos, Pop Mhan, Kevin Lau, and Sean Chen. Marvel Legends, as the series is known, includes 72 top heroes and villains from the Marvel Universe plus some cool insert sets: costume change cards documenting the changing outerwear of Marvel's finest; and special static cling 'secret identity' cards which feature Marvel heroes and their alter egos.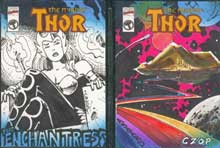 Special bonus cards in the Marvel Legends Series include 'Custom Cover' cards, authentic hand-drawn sketches autographed by the artists, which are inserted at a rate of one per box. Each box of Marvel Legends also includes a box topper--one of four special foil cards featuring the cover to one of the first four issues of the Ultimate Spider-Man comic. Each case of eight boxes also contains a special case topper--a 'Toad' card from the X-Men movie series signed by actor Ray Parks (who also played Darth Maul in The Phantom Menace). These cards arrived too late to be included in the X-Men Movie card series, but a few of them have made it into the marketplace where they have fetched premium prices. Now all dealers who order 8 boxes of the hobby only Marvel Legends cards will receive a signed Ray Parks card.
To promote the series Topps is pulling out all the stops and putting out over one million sample cards.

A sample card will be included in every copy of The Ultimate Spider-Man # 8 as well as in X-Men Unlimited #1, and in the newsstand-oriented Ultimate Marvel Magazine #4.

Wizard #115 will contain a special Original Human Torch card that will not appear anywhere else, even in the Marvel Legends series itself.

With the sales of Marvel comics showing a significant increase over last year, Topps is hoping that its Marvel Legends series will simultaneously re-establish Marvel Cards in a preeminent position at the very top of the non-sports card heap.

So far Topps has exercised an admirable restraint and sensitivity in limiting the number of Marvel trading card releases, as well as considerable ingenuity and expense in promoting their Marvel cards.

Has the market recovered from the hangover caused by the Fleer binge?

The response to Topps X-men Movie series seems to indicate that it has, but confirmation lies in the fate of Marvel Legends when it hits the marketplace this April.