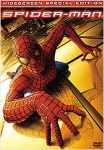 Sony will release a special 2-disc DVD edition of the $400 million Spider-Man blockbuster on Friday, November 1. The unusual Friday release date was set to take full advantage of Halloween weekend video rentals, while the early November debut was chosen to steal the march on a raft of heavyweight competitors and to provide maximum sales time during the holiday season. Sony not only expects Spider-Man to become the best-selling DVD of all time, the studio is confident that the 2-disc Spidey set can even best The Lion King as the number one video product of all time. To beat The Lion King, the Spider-Man DVD would have to sell more than 30 million units.
Of course, to get numbers like that the Spider-Man DVD will be heavily discounted in the mass market, making it a problematic product in many pop culture stores, but a massive $45 million TV ad campaign involving Cingular Wireless, Dr. Pepper, and Hardees should provide another lift in visibility and sales for the comic market. Additional good news for comic retailers comes directly from the DVD itself, thanks to special features devoted to Spidey's comic book roots that include interviews with Stan Lee and several of the key artists who worked on the long-running series, plus an extensive history of Spider-Man in comics that will includes galleries devoted to key events, girlfriends, and villains. The Spider-Man DVD will provide millions of kids with a window into the world of comics--some of them are bound to climb through and actually start reading and collecting.
If the Spider-Man DVD is to meet Sony's lofty goals, it will have to overcome the most brutal competition ever during the coming holiday season.

All the big summer hits will be out including Attack of the Clones, Minority Report, and Sony's own Men In Black II, (which continues to outperform expectations).

In addition there will be two blockbusters from last year, Monsters Inc. and the collector's edition of Lord of the Rings, plus the first DVD edition of another $400 million title, E.T. the Extra-Terrestrial.