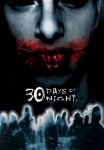 Senator International, a Hollywood studio that specializes in moderately budgeted genre pictures, has optioned 30 Days Of Night, a three-issue horror comic series written by Steve Niles and published by IDW. Spider-Man helmer Sam Raimi, who cut his eyeteeth on low-budget shockers like Evil Dead and Army of Darkness, will produce but not direct, since he is committed to the Spider-Man sequel. Mike Richardson of Dark Horse Comics, who shopped 30 Days of Night around Hollywood through CAA, will serve as executive producer on the film.
Unlike most of the comic book properties that have been optioned this summer 30 Days of Night contains no superheroes.

Set in a remote Alaskan village that faces 30 sunless days in the depth of winter, the story centers around a husband and wife sheriff and deputy team, who have to deal with an onslaught of vampires who thrive in the sun-free Alaskan winter.

It is reassuring that non-superhero titles like Road to Perdition, From Hell, Ghost World, and now 30 Days of Night are getting attention in Hollywood, since Tinseltown has demonstrated a tendency to embrace and then reject spandex-clad heroes as sequels to films like Batman and Superman failed to deliver on the promise of the originals.