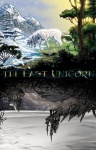 IDW Publishing has announced plans to adapt Peter Beagle's bestselling fantasy novel The Last Unicorn into a six-issue comic minisieres. The new series (32 pages, $3.99) will launch in April.
The adaptation will be penned by Peter B. Gillis, with art by Renae De Liz and colors by Ray Dillon.
The Last Unicorn has sold over five million copies since it was first published in 1968. An animated feature film based on the book was released in 1982. It was produced by Rankin Bass, but some of the animation was done by a predecessor to famed anime powerhouse Studio Ghibli (see "The Last Unicorn's Anime Connection"). A 25th anniversary edition of the film was released on DVD in 2007 (see "The Last Unicorn 25th Anniversary Edition").