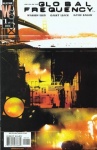 The CW is taking another shot at adapting Warren Ellis' Global Frequency for television, according to Production Weekly via Twitter. Scott Nimerfro, producer, co-producer, and writer of acclaimed series Pushing Daisies, was been assigned to script the pilot.
Ellis confirmed the basics on his blog. "I've spoken briefly to Scott Nimerfro – by which I mean I threatened to have him stabbed, and he thanked me and told me a funny story about how he's had worse threats –and he is Okay," Ellis wrote.
CW precursor WB had a Global Frequency series in development in 2004 (see "Global Frequency on the WB"). A pilot was shot but never aired.