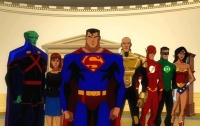 Warner Premiere, DC Comics, and Warner Bros. Animation will release Justice League: Crisis on Two Earths, the seventh in the DC Universe Animated series of direct-to-DVD features, on February 23rd. The story by Dwayne McDuffie will be exec-produced by Bruce Timm and co-directed by Lauren Montgomery and Sam Liu. It will kick off when a good Lex Luthor arrives from an alternate universe to get help from the Justice League in saving his Earth from a team of villains with identical powers to the Justice League.
The voice cast will include Mark Harmon as Superman, James Woods as Owlman, Chris Noth as Lex Luthor, William Baldwin as Batman, Gina Torres as Superwoman and Bruce Davison as the President.
The film will be released in three versions: single-disc version for $19.98; two-disc Special Edition for $24.98, and Blu-ray for $29.99.
Both the Special Edition and Blu-ray versions will include the first in a new series of animated shorts, DC Showcase: The Spectre. The Spectre will be written by Steve Niles; the voice cast will include Gary Cole and Alyssa Milano. Both will also include The New World, a documentary featurette about Brad Meltzer's Identity Crisis narrated by Michael Uslan; a sneak peak at the next DC Universe Animated feature; and two episodes of Justice League Unlimited hand-picked by Bruce Timm.
In addition to those extras, the Blu-ray version will include two additional episodes of Justice League Unlimited, plus TV pilots for the live action shows Wonder Woman and Aquaman.
The most recent DC Universe Animated feature, Superman/Batman: Public Enemies (see "Superman/Batman: Public Enemies"), was released in September.