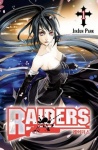 Raiders Volume 1 (Manga)
Publisher: Yen Press
Release Date: December 2009
Price: $10.99
Creator: JinJun Park
Format: 176 pgs.; B&W
ISBN: 978-0-75953-049-2
Age Rating: Young Adult
ICv2 Rating: 3.5 Stars out of 5
Speed lines abound when
Raiders of the Lost Ark
meets
The Da Vinci Code
meets
Night of the Living Dead
. When Irel Clark, assistant to a professor of archeology, is sent to recover the Holy Grail, he gets more than he bargained for. Instead of finding the fabled chalice, he picks up one of five chrism bottles instead, bottles said to be filled with the blood of Jesus and the promise of immortality to the one who drinks from it. This promise is put to the test when a beautiful zombie demands at swordpoint that Irel surrender the bottle--or she'll eat him.
Everything about
Raiders
is over the top. The art is detailed and only a spare amount of screen tone is used, resulting in the characters looking as if a bright light is focused directly on them at all times. This is quite dramatic when it works (when it doesn't it leaves the characters looking surprised while wearing very shiny clothes). But mostly it works. There is plenty of action, lots of chase scenes, and gore galore in this manic zombie-fest. As a result, there is much here that defies logic, but if the reader is willing to let go and roll with the story, there is also much here to enjoy.
--
Eva Volin
: Supervising Children's Librarian for the Alameda Free Library in California.