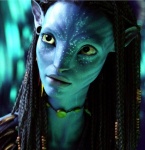 James Cameron's Avatar remained firmly in control of the box office for the third weekend in a row earning an estimated $68.3 million, a drop of just 9.7% from last week's total. The 3-D science fiction epic has now earned a mammoth $352,111,000 domestically, and over $1 billion worldwide. In just 17 days Avatar has passed The Dark Knight and is already in fourth place on the all-time worldwide top-grossing films. It should easily vault into second place by this time next week, and should end up about half way between the current #2 film, LOTR: Return of the King ($1,119,110, 941) and the all-time champ, Cameron's Titanic ($1,842, 879,455).


Weekend Box Office (Studio Estimates): January 1-3, 2010

Film

Wknd Gross

Screens

Avg./Screen

Total Gross

1

Avatar

$68,300,000

3,461

$19,734

$352,111,000

2

Sherlock Holmes

$38,385,000

3,626

$10,586

$140,675,000

3

Alvin and the Chipmunks: The Squeakquel

$36,600,000

3,747

$9,768

$157,345,000

4

It's Complicated

$18,700,000

2,897

$6,455

$59,105,000

5

The Blind Side

$12,650,000

2,926

$4,323

$209,052,000

6

Up in the Air

$11,350,000

1,895

$5,989

$45,020,000

7

The Princess and the Frog

$10,013,000

3,328

$3,009

$86,085,000

8

Did You Hear About the Morgans?

$5,200,000

2,718

$1,913

$25,620,000

9

Nine

$4,250,000

1,412

$3,010

$14,047,000

10

Invictus

$4,130,000

2,170

$1,903

$30,755,000
Domestically
Avatar
appears to have the potential to surpass
The Dark Knight's
gigantic $533 million total.
Showing incredible "legs,"
Avatar
shattered
Spider-Man's
record for third weekend grosses.
The original Webslinger movie earned $45.7 million during its third frame in 2002—and even when ticket price inflation is taken into account,
Avatar
still comes out on top with 8.4 million admissions to Spidey's 7.8.
Even though
Avatar
should slow down in the coming weeks since kids and college students will be returning to school, weak competition and strong word of mouth should keep the dollars rolling in.
Meanwhile back in the realm of ordinary, non-billion dollar films, Warner Bros. Sherlock Holmes continues to perform well. Guy Ritchie's film dropped just 39% in its second weekend. It has earned $140 million domestically in just ten days and appears to have a good chance of topping $200 million as does Fox's Alvin and the Chipmunks: The Squeakwell, which dropped just 25% as it earned an estimated $36.6 million and brought its domestic cumulative to an outstanding $157.3 million.
Also this weekend, The Blind Side starring Sandra Bullock extended its phenomenal run by earning $12.6 million and finishing fifth in its seventh weekend in theaters. The highest grossing Bullock film ever, The Blind Side has now earned over $209 million domestically. The Blind Side posted a 10.3% increase over its sixth weekend, while Up in the Air, which finished in sixth place, increased its take by 1%. Disney's 2-D animated film, The Princess and the Frog (up 11.3%), which came in seventh, Sony's Did You Hear About the Morgans? (up 4%), which finished at #8, and Clint Eastwood's Invictus (up 2.1%), which ended up in tenth, all actually increased their take during a very strong weekend at the box office. The top ten films earned 70% more than they did during the first frame of 2009 in which Marley & Me topped the charts, and 86% more than in 2008 when National Treasure: Book of Secrets was on top.