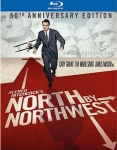 2009 will be seen as the year in which Blu-ray finally established itself as the next wave in home video. Sales of hardware passed the tipping point as Blu-ray became the preferred medium for collectors. When picking the top DVD releases of 2009 it is impossible to avoid taking into account both the higher visual and sound qualities of Blu-ray releases, and the new Blu-ray editions of a number of classic films. Since the restoration process required to bring older films up to BD standards is expensive, only the best of the best have received the treatment so far, and their presence is impossible to ignore. Thus this list is quite different from any list of the 10 best films of 2009. Not only do 2009 films have to compete with new versions of all-time classics, some of the best films of 2009 such as The Hurt Locker, Up in the Air, and Avatar are not even out on DVD yet. Here is a very subjective list of discs released in 2009 that takes into account both the quality of the film itself and its presentation.
1. North By Northwest (Warner Home Video, Blu-ray, $34.99) As the late Robin Wood pointed out, North By Northwest is not just one of Hitchcock's most entertaining films, it is by far the best of his "chase" movies. With sterling performances from Cary Grant, Eve Marie Saint, James Mason, and Martin Landau NBNW proceeds with dreamlike (or some might say "nightmare") logic across the country. Warner Home Video's Blu-ray includes a masterful new transfer of the film with all the details and Hitchcock's perfect color touches intact. Several great documentaries are also included along with a great booklet, but the movie itself is the real treasure here, and it has never looked better.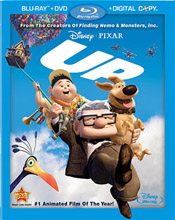 2.
Up
(
Buena Vista
, Blu-ray, $45.99).
Pixar's
Up
one of the finest movies released in 2009.
A daringly original film starring a 78-year-old curmudgeon, it matched its dramatic flair and originality with breathtaking visuals, all of which are reproduced with great fidelity on the Blu-ray edition, which also includes a wealth of extras, a digital copy of the film, and a DVD copy as well.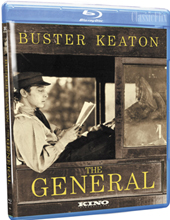 3.
The General
(Kino, Blu-ray, $34.95).
Buster Keaton's
The General
(1926) is one of the masterpieces of the Silent Era, and hands down the best movie ever made about the Civil War.
Kino's Blu-ray transfer is the best-looking version of the sepia-toned classic we are ever likely to see.
Keaton's film combines a devotion to period detail with heaping doses of both comedy and adventure all rendered in a fluid visual style that has rightly been compared with Matthew Brady's remarkable Civil War photos.
4. Coraline (Universal, Blu-ray $26.98). Henry Selick's stop motion adaptation of Neil Gaiman's novella was one of the most under-rated cinematic delights of 2009. The Blu-ray edition includes a "3-D" version of the movie, but the technology for home 3-D just isn't here yet, and viewers would be advised to stick with the 2-D version. Coraline should not be confused with the vast majority of Hollywood's animated output which targets young children--Gaiman's dark vision is aimed at tweens and adults, and it has a depth and richness that most of its animated competition lacks.
5. The Wizard of Oz (Warner Home Video, 70th Anniversary Collector's Edition Blu-ray $84.99). This magical film would probably be rated higher, except for the fact that Warners brought out an excellent edition of the film on DVD just a few years ago. Still the Blu-Ray version with its ultra-resolution transfer represents a major improvement over previous versions. The sepia-tone Kansas scenes exhibit tremendous clarity and the Technicolor Oz sequences brim with details never before available to home video viewers.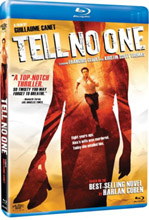 6.
Tell No One
(MPI Blu-ray $34.95).
This 2008 French film, which is based on an American thriller by Harlan Coben, didn't arrive on DVD here until last March.
Beautifully adapted to a French setting by director Guillame Canet, this R-rated thrill ride is one of the few films that actually deserves the accolade, "Hitchcockian."
Tell No One
received a 96% positive rating on Rotten Tomatoes, and when you see it, you'll wonder what in the world the 4% holdouts were thinking.
7. Pinocchio (Buena Vista, 70th Anniversary Blu-ray Combo Pack, $35.99). The classic Disney animated feature from 1940 has never looked or sounded better than in this new high resolution high-def transfer. Both in the quality of the backgrounds and in the fluidity of its animation, Pinocchio demonstrates a major advance over Snow White. It is easy to see why Pinocchio is thought by many to be the finest prewar achievement of the Disney studio.
8. Mad Men Season 2 (Lions Gate, Blu-ray $49.99). Matthew Weiner's serial drama about admen in the late 1950s and early 1960s is the best of a great crop of contemporary cable TV series. Although the historical elements in the series are great fun (and serve to anchor the saga), it's the real human drama that makes this series so good. The enigmatic, semi-hollow Don Draper, with his headlong Gatsby-esque pursuit of the American dream, is one of the most intriguing characters to emerge in any medium in this new Century. Mad Men has been available on Blu-ray from the first season, and it's the perfect exemplar of the hi-def era of television.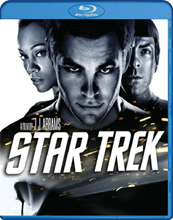 9.
District 9
(Sony, Blu-ray $39.95).
District 9
is the kind of science fiction film that reminds us of the power of the SF medium, which can deal with real issues and themes by highlighting current and past situations with parallel events set in the future.
District 9
benefits immensely from its South African setting, where a wayward band extraterrestrials has been confined to a squalid shantytown-like ghetto and is being cared for by a for-profit corporation that finds it convenient to evict them.
Although modestly budgeted,
District 9
features excellent special effects, which are captured effectively on the excellent Blu-ray transfer.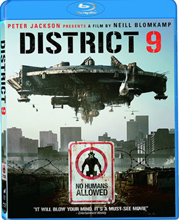 10.
Star Trek
(
Paramount
, Blu-ray $39.99).
The best-reviewed of all the summer blockbusters, J.J. Abram's
Star Trek
looks gorgeous in this hi-def Blu-ray transfer.
Even the director's penchant for lens flare can't diminish the strong visuals that the
Star Trek
Blu-ray provides.
The best "reboot" of a pop culture franchise in years, Abrams'
Star Trek
provides plenty of character-driven humor along with its abundant thrills and inside references to
Star Trek
lore.