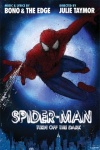 The oft-delayed big budget musical, Spider-Man Turn Off the Dark, may finally get its spot on the Great White Way, though it won't open until this coming fall. Michael Riedel of the New York Post reports that Bono's business partner Michael Cole "has stepped in to clean up the mess," and that the "financing is now in place, with a chunk coming from Disney, which recently acquired Marvel Comics." Bono of U2 and The Edge provided the music for the show, which will star newcomer Reeve Carney as Spidey and Alan Cumming as The Green Goblin.
Disney's backing makes sense, since Spider-Man is now one of the studio's prime assets. The mouse house also has lots of Broadway experience as well, having worked with Spider-Man Turn Off the Dark director Julie Taymor on the stage adaptation of The Lion King. The Spidey musical, which features all sorts of complex aerial work to recreate the webslinger's swinging from building to building across Manhattan, is the most expensive show in the history of Broadway with a price tag north of $50 million just for development.
The current plan is for the show to hold previews in September and then open in November.