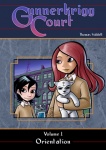 The full list of 73 Great Graphic Novels for Teens selected by the American Library Association's Great Graphic Novels for Teens Committee is presented here. For the Top 10 list and info on the selection process, click here.
Nonfiction
Butzer, C.M. Gettysburg: The Graphic Novel. HarperCollins. 2008. 9780061561757. $9.99.
BE THERE: witness the war's turning point and Lincoln's historic address.
Geary, Rick. Trotsky: A Graphic Biography. Hill and Wang. 2009. 9780809095087. $16.95.
The mind behind the Soviet Revolution and the foundation of the U.S.S.R.
Guibert, Emmanuel. Photographer: Into War-Torn Afghanistan with Doctors without Borders. First Second. 2009. 9781596433755. $29.95.
In 1986 a young French photographer accompanied Doctors Without Borders into war torn Afghanistan. This is his story.
Neufeld, Josh. A.D.: New Orleans After the Deluge. Pantheon Books. 2009. 9780307378149. $24.95.
Deeply moving true stories of survival during and after Hurricane Katrina.
Fiction
Asada, Hiroyuki. Tegami Bachi: Letter Bee, vol 1. VIZ Media. 2009. 9781421529134. $7.99.
In a land of perpetual darkness, where telephones and email are non-existent, will your message be received?
Asano, Inio. solanin. VIZ Media. 2008. 9781421523217. $17.99.
Life after college: office drone or rock star?
Benjamin. Orange. Tokyopop. 2009. 9781427814630. $14.95.
Soaring art turns this story of a suicidal girl into a fever dream of emotion.
Butcher, Jim and Ardian Syaf. Jim Butcher's Dresden Files: Welcome to the Jungle. Del Rey. 2008. 9780345507464. $19.95.
Magic, murder, and mayhem in downtown Chicago: this is a job for a professional wizard.
Carey, Mike and Sebastian Fiumara. Ender's Shadow: Battle School. Marvel. 2009. 9780785135968. $24.99.
Bean's life on the street is a constant war. Will he find peace at Battle School?
Cavallaro, Mike. Parade (With Fireworks). Image/Shadowline. 2008. 9781582409955. $12.99.
In 1920s Italy, a fight between the Fascists and Socialists forces Paolo to make a choice that will change his life forever.
Chmakova, Svetlana.
Nightschool, vol 1. Yen Press. 2009. 9780759528598. $10.99.
Nightschool, vol 2. Yen Press. 2009. 9780759528604. $10.99.
When you go to a school for vampires and demons, don't get caught without your hall pass.
CLAMP. Clover Omnibus Edition. Dark Horse. 2009. 9781595821966. $19.95.
Former soldier Kazuhiko is asked to do one last job—deliver a young woman to a mysterious location only she can find.
Davis, Eleanor. Secret Science Alliance and the Copycat Crook. Bloomsbury. 2009. 9781599901428. $18.99.
A jock, a tough girl and the new kid use their secret love of science to bring down a nefarious plot.
DeFilippis, Nunzio, Christina Weir and Kevin Cornell. The Curious Case of Benjamin Button. Quirk Books. 2008. 9781594742811. $15.95.
Like the movie, only funnier and closer to the book.
Eiki, Eiki. Train*Train, vol 1. DMP/Doki Doki. 2009. 9781569700969. $12.95.
Asahi's dreams of working with trains hit a snag when he gets assigned to work with the weirdoes at the Minami Kitazawa Station.
Erb, Greg, Jason Oremland and Wook-Jin Clark. The Return of King Doug. Oni Press. 2009. 9781934964156. $14.95.
A major loser gets a second chance to be a hero when he returns to a magical land to save his son.
Fraction, Matt and Salvador Larroca. Invincible Iron Man: The Five Nightmares. Marvel. 2008. 9780785134602. $19.95.
A terrorist uses Iron Man's own technology against him.
Fujino, Moyamu. Animal Academy: Hakobune Hakusho, vol 1. Tokyopop. 2009. 9781427810953. $10.99.
Morimori High is filled with special students and Neko is possibly the only human in her class.
Gaiman, Neil and P. Craig Russell. Sandman: The Dream Hunters. DC Comics/Vertigo. 2009. 9781401224240. $24.99.
The tale of a young Buddhist monk and the fox spirit who loves him.
Goddard, Drew and Georges Jeanty. Buffy the Vampire Slayer, Season 8, vol.3: Wolves at the Gate. Dark Horse. 2008. 9781595821652.
Her enemies say she's bringing on the apocalypse, her closest allies are sleeping around, and now she has to ask a vampire for help. Is Buffy really doing the right thing?
Hama, Larry and Jim Clark and Tom Feister. G.I. Joe: Origins. IDW. 2009. 9781600104978. $19.99.
It's the War on Terror and G.I. Joe is there.
Hamilton, Tim. Ray Bradbury's Fahrenheit 451: The Authorized Edition. Hill & Wang. 2009. 9780809051014. $16.95.
A gorgeous retelling of this compelling tale of censorship and intellectual freedom.
Hardison, Jim and Bart Sears. The Helm. Dark Horse. 2009. 9781595822611. $14.95.
Pathetic loser Matt Blurdy has a heroic destiny, but he'd better shed those extra pounds and beat that murder rap in a hurry, because his destiny is about to be put to the test.
Hill, Joe and Gabriel Rodridguez.
Locke & Key: Welcome to Lovecraft. IDW. 2008. 9781600102370. $24.99.
Locke & Key: Head Games. IDW. 2009. 9781600104831. $24.99.
After the father is murdered, a family finds that all is not as it seems in a town called Lovecraft.
Hine, David and Carmine DeGiandomenico. Spider-Man Noir. Marvel. 2009. 9780785129233. $14.95.
The Spider-Man legend is re-imagined in a dark depression-era New York.
Igarashi, Daisuke. Children of the Sea, vol 1. VIZ Media. 2009. 9781421529141. $14.99.
Three young teens hear the call of the ocean and realize their special connection to the depths of the sea.
Ishikawa, Masayuki. Moyasimon: Tales of Agriculture, vol 1. Del Rey. 2009. 9780345514721. $10.99.
Tadayasu has the remarkable ability to see microscopic organisms and they're really cute!
Jenkins, Paul and Paolo Rivera. Mythos. Marvel. 2008. 9780785115977. $24.99.
Superhero origins: every great story has a great beginning.
Jensen, Van and Dusty Higgins. Pinocchio: Vampire Slayer. SLG Publishing. 2009. 9781593621766. $10.95.
Thought Pinocchio's story had a happy ending? Wrong!
Johns, Geoff and Ivan Reis. Green Lantern: Secret Origin. DC Comics. 2008. 9781401219901. $19.99.
The tough road from test pilot to interstellar hero.
Johns, Geoff and Gary Frank. Superman: Brainiac. DC Comics. 2009. 9781401220877. $19.99.
Superman and Supergirl face a terrifying threat from their home planet.
Kanno, Aya. Otomen, vol 1. VIZ Media. 2009. 9781421521862 . $8.99.
In the stoic and manly breast of Asuka Masamune beats the heart of a ... girly girl?
Kelly, Joe and J.M. Ken Nimura. I Kill Giants. Image. 2009. 9781607060925. $15.99.
Barbara Thorson carries a hammer to school every day to battle monsters, but are the monsters real or a mark of something more disturbing?
Kim, Dong Hwa.
The Color of Earth. First Second. 2009. 9781596434585. $16.95.
The Color of Water. First Second. 2009. 9781596434592. $16.95.
The Color of Heaven. First Second. 2009. 9781596434608. $16.95.
Romance blooms in the parallel stories of a young girl and her widowed mother in traditional Korean society.
Komura, Ayumi. Mixed Vegetables, vol 1. VIZ Media. 2008. 9781421519678. $8.99.
Hanayu longs to be a sushi chef, but can she abandon her family's bakery to follow her heart?
Kovac, Tommy and Sonny Liew. Wonderland, Disney Press. 2009. 978142310451-3. $19.99.
Wonderland as seen through the eyes of the White Rabbit's maid.
Kneece, Mark and Chris Lie. Rod Serling's The Twilight Zone: Deaths-Head Revisited. Walker & Company. 2009. 9780802797237. $9.99.
A former death camp commander faces justice ... in the Twilight Zone.
Kumeta, Koji. Sayonara, Zetsubou-Sensei: The Power of Negative Thinking, vol 1. Del Rey. 2009. 9780345508935. $10.99.
This is what happens when the most positive girl in the world meets the most negative teacher in the world.
Lansdale, Joe R. and Nathan Fox. Pigeons From Hell: Based on the Short Story by Conan creator Robert E. Howard. Dark Horse. 2009. 9781595822376. $13.95.
Hoo-doo in a haunted plantation house deep in the bayou.
Lee, Tony and Sam Hart. Outlaw: The Legend of Robin Hood. Candlewick. 2009. 978076364399. $21.99.
The Robin Hood legend retold.
Lemire, Jeff. The Nobody. DC Comics/Vertigo. 2009. 9781848564831. $19.99.
A mysterious stranger covered head to toe in bandages arrives in a small town. Paranoia follows in his wake.
Lethem, Jonathan and Farel Dalrymple. Omega the Unknown. Marvel. 2008. 9780785130529. $29.99.
The weird, twisting journey of a boy with a (maybe) super-heroic destiny.
Love, Jeremy. Bayou, vol 1. DC Comics/Zuda. 2009. 9781401223823. $14.99.
A kidnapping and a lynching send Lee on a quest into a terrifying fantasy world hidden beneath the bayou.
Matsumoto, Nina. Yokaiden, vol 1. Del Rey. 2008. 9780345503275. $10.95.
When his grouchy grandmother's soul is stolen by the yokai, Hamachi journeys into their realm to get it back.
Millar, Mark and Tommy Lee Edwards. 1985. Marvel. 2009. 9780785121589. $24.95.
A boy with family issues realizes he's got a lot more to worry about when Marvel super-villains start invading the real world.
Nakashima, Kazuki and Karakara Kemuri.
Takeru: Opera Susanoh Sword of the Devil, vol 1. Tokyopop. 2009. 9781427815705. $10.99.
Takeru: Opera Susanoh Sword of the Devil, vol 2. Tokyopop. 2009. 9781427815712. $10.99.
Three men, all named Takeru, join forces to search for the legendary Sword of Susanoh.
Navgorodoff, Danica. Refresh Refresh. First Second. 2009. 9781596435223. $17.99.
Three young men struggle to cope with the absence of their fathers: Marine Corps reservists who have been sent to war in Iraq.
Obata, Yuki.
We Were There, vol 1. VIZ Media. 2008. 9781421520186. $8.99.
We Were There, vol 2. VIZ Media. 2009. 9781421520193. $8.99.
We Were There, vol 3. VIZ Media. 2009. 9781421520209. $8.99.
We Were There, vol 4. VIZ Media. 2009. 9781421520216. $8.99.
What do you do when you fall in love with a guy who is still in love with his dead girlfriend?
Ottaviani, Jim and Zander Cannon and Kevin Cannon. T-Minus: The Race to the Moon. Simon & Schuster/Aladdin. 2009. 9781416986829. $21.99.
The scientists behind the space race.
Pak, Greg and Carmine Di Giandomenico. X-Men: Magneto Testament. Marvel. 2009. 9780785138235. $24.99.
The story of X-Men villain Magneto as a Jewish child in Nazi Germany.
Phelan, Matt. Storm in the Barn. Candlewick Press. 2009. 9780763636180. $24.99.
Jack and his family are struggling to survive the Dust Bowl. Will the mystery in the barn be their salvation or their complete undoing?
Powell, Nate. Swallow Me Whole. Top Shelf. 2008. 9781603090339. $19.95.
Teen step-siblings deal with their own mental illnesses, mistaken love, and the strength of family ties.
Pyle, Kevin C. Katman. Henry Holt. 2009. 9780805082852. $12.99.
An urban teen spends his summer vacation caring for stray cats while he cultivates a friendship with an aspiring cartoonist.
Runberg, Sylvain and Serge Pelle.
Orbital, Vol. 1: Scars. Cinebook. 2009. 9781905460899. $11.95.
Orbital, Vol. 2: Ruptures. Cinebook. 2009. 9781905460953. $11.95.
Teamed with an alien partner, a human tries to keep the galactic peace on behalf of an interstellar coalition that despises him.
Ryukishi07 and Karin Suzuragi.
Higurashi When They Cry, vol 1: Abducted by Demons Arc. Yen Press. 2008. 9780759529830. $10.99.
Higurashi When They Cry, vol 2: Abducted by Demons Arc. Yen Press. 2009. 9780759529847. $10.99.
Keiichi has moved to a sleepy little town and is settling in quite nicely when he learns of a series of grisly and mysterious murders.
Sala, Richard. Cat Burglar Black. First Second. 2009. 9781596431447. $16.99.
Teen orphan K's skills as a burglar are the key to an international ring of crime.
Saito, Ken. Name of the Flower, vol. 1. DC Comics/CMX. 2009. 9781401215965. $9.99.
A teen girl and an eccentric older author develop a relationship as they overcome past tragedy.
Schweizer, Chris. The Crogan Adventures: Crogan's Vengeance. Oni Press. 2008. 9781934964064. $14.95.
"Catfish" Crogan never thought he'd be a notorious pirate, but his life just took a turn for the worse.
Shan, Darren and Takahiro Arai. Cirque du Freak, vol. 1. Yen Press. 2009. 9780759530416. $10.99.
In this adaptation of the popular series, Darren becomes a vampire to save his friend's life.
Shanower, Eric and Skottie Young. Oz: The Wonderful Wizard of Oz. Marvel. 2009. 9780785129219. $29.99.
The classic story you don't know if you've only seen the movie.
Shelley, Mary and Clive Bryant. Frankenstein: The Graphic Novel. Classical Comics Ltd. 2009. 9781906332495. $16.95.
Horror comes to life: the ethics of creation and destruction.
Shiina, Karuho.
Kimi ni Todoke: From Me to You, vol. 1. VIZ Media. 2009. 9781421527550. $8.99.
Kimi ni Todoke: From Me to You, vol. 2. VIZ Media. 2009. 9781421527567. $9.99.
Shy girls wins.
Siddell, Tom. Gunnerkrigg Court, vol 1: Orientation. Archaia Studios Press. 2009. 9781932386349. $26.95.
Antimony is starting her first year of boarding school, where secrets and mysterious, spooky events are part of the curriculum.
Simone, Gail and Terry Dodson and Rachel Dodson. Wonder Woman: The Circle. DC Comics. 2008. 9781401219321. 24.99.
Following a war that decimated the Amazon nation, a long-imprisoned enemy seeks the death of Wonder Woman.
Strzepek, Kazimir. The Mourning Star, vol 2. Bodega Distribution. 2009. 0977767973. $13.00.
A wild fantasy world of magic and combat ... and, dude, the guy's got scissor hands!
Suzuki, Julietta. Karakuri Odette, vol. 1. Tokyopop. 2009. 9781427814074. $9.99.
An android wants to find out what it means to be human, so she enrolls in high school.
Telgemeier, Raina and Dave Roman and Anzu. X-Men: Misfits. Del Rey. 2009. 9780345505149. $12.99.
In this manga take on X-Men, Kitty Pryde is the only girl at a school for super mutants.
Thomas, Roy and Sebastian Fiumara. The Picture of Dorian Gray. Marvel. 2008. 9780785126546. $19.99.
Dorian possesses a portrait that is "the most magical of mirrors," revealing his true self.
Urasawa, Naoki and Takashi Nagasaki.
Pluto, vol 1. VIZ Media. 2009. 9781421519180. $12.99.
Pluto, vol 2. VIZ Media. 2009. 9781421519197. $12.99.
Pluto, vol 3. VIZ Media. 2009. 9781421519203. $12.99.
Who is killing the greatest robots on Earth?
Vehlmann, Fabien and Denis Bodart. Green Manor: Assassins and Gentlemen. Cinebook. 2008. 9781905460533. $13.95.
The fog of Victorian London conceals the perfect murder.
Waid, Mark, editor. Cthulhu Tales, vol 2: Whispers of Madness. BOOM! Studios. 2008. 978193450651. $11.50.
Lovecraftian tales of terrifying alien gods which resemble icky squids.
Yoshinaga, Fumi. Ooku: The Inner Chambers, vol 1. VIZ Media. 2009. 9781421527475. $12.99.
In an imaginary feudal Japan, women are in charge and men are objects of desire.
Yost, Christopher and Paqual Ferry. Ender's Game: Battle School. Marvel. 2009. 9780785135807. $24.99.
Training to save the earth, Ender enters Battle School and faces the monsters that haunt his own psyche.