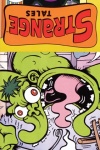 At first glance a viewer might think that Chip Kidd's cover to Marvel's Strange Tales anthology is some sort of a printer's error, rather than a clever way to indicate that the alt-comics creators in the volume have a very different take on the Marvel Universe. ICv2 caught up with the design maven who explained his first foray into the Marvel realm, which features an image from Peter Bagge's "The Incorrigible Hulk."
Is this your first work for Marvel?
Yes, I was approached to do the cover for the first Strange Tales compilation, the hardcover collection of the three Strange Tales comics. Marvel took the title Strange Tales and assigned a number of the top independent cartoonists to do short stories featuring their own take on the familiar Marvel characters. People like Peter Bagge, Paul Pope, Dash Shaw, James Kochalka, are all involved
The most obvious thing about the cover is the orientation of the art and the title.
Basically as a designer I felt I didn't really have many options actually. The brief was to reuse an already existing piece of art from the project. I thought, what can I bring to it, so I figured, well all right, if they're strange, then let's make them strange.
It should raise a few eyebrows.
Well, that's the idea. The thing is, it's not like you can't tell what it is. It just looks hopefully different, and hopefully worthy of your attention.
What other comic book-based projects are you working on?
I am doing a book on the golden age of Captain Marvel. It's a coffee table book, and that will be out through Abrams Comics Art this fall.