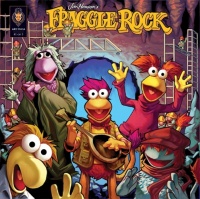 Archaia Entertainment will launch a three-issue miniseries based on Henson's Fraggle Rock in April. The first issue of the new series will feature contributions from Jeffrey Brown and Kate Cook, with future issues to include work by Heidi Arnhold, Ross Cambell, Joanna Estep, Jake Forbes, Neil Kleid, Chris Lie, Jeremy Love, and Grace Randolph, among others.
The series will be published in the 8" x 8" Mouse Guard format, with 32-page issues at $3.95. Each issue will include activity pages with games, puzzles, and arts and crafts projects.
Fraggle Rock, which originated as a children's TV series in 1983, is getting a new resurgence of licensing surrounding the release of the four season DVD sets and a full series set last year.
Archaia and Jim Henson Company announced the comic publishing deal last summer (see "Archaia and Henson Forge Deal"). Dark Crystal and Labyrinth are planned for later this year.
Archaia is promoting the Fraggle Rock series with its Free Comic Book Day comic (see "FCBD 2010 Gold Books Announced").