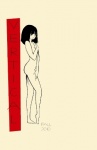 Vertical, Inc. has provided details on the October release of Osamu Tezuka's Ayako. Vertical's release of Ayako will be in hardcover (not paperback, as reported by some), 704 pages, selling at $26.95.
The story is about a formerly powerful family of landowners who find themselves caught up in the political, social, and economic changes in post-World War II Japan. Though the cover for Ayako is still being designed, the title character is featured on the front of Vertical's Fall 2010 catalog. That image was designed by Peter Mendelsund, art director at Vertical, who will be designing the final Ayako cover.
Ayako will be Vertical's spotlight title at New York Comic Con and New York Anime Festival, both taking place October 8-10, 2010 (See "New York Comic Con & Anime Fest to Co-Habit"). The book will street October 19th.
Vertical has a long-standing relationship with Tezuka Productions, and has published six Tezuka series: Buddha, Ode to Kirihito, MW, Apollo's Song, Dororo, and Black Jack. Buddha and Dororo have both won Eisner Awards and Buddha also garnered two Harvey Awards. All of Vertical's releases of Tezuka's works are still in print in paperback, with a new two-volume edition of Ode to Kirihito planned for the end of March.
When asked if Vertical planned on releasing more of Tezuka's work, Marketing Director Ed Chavez said, "These titles are just scraping the surface and we intend to continue to release more Tezuka titles in the future," however no titles could be confirmed because contracts had not yet been formalized.