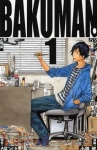 Viz will release the first volume of Bakuman, a Shonen Jump title by the Death Note team (Tsugumi Ohba, writer, and Takeshi Obata, who's also well known for Hikaru No Go, artist), in August. The series was very popular in Japan, where it has spawned an anime series premiering this year. The story concerns two 9th graders who want to be manga-ka.
Two other Q3 Viz launches have also recently been announced. Dengeki Daisy, by Kyousuke Motomi (Beast Master), a shojo comedy series, will launch in July. It tells the story of a teen whose late brother consigns her to the care of Daisy, whose long-range help keeps her from discovering who it is.
Seiho Boys High School, a shojo title by Kaneyoshi Izumi (Doubt) will launch in August. The storyline is of girl-crazy boys at an isolated school. There are seven volumes in Japan.