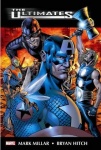 Over the weekend graphic novels suddenly moved en masse to the top of Amazon.com's list of bestselling titles managing to unseat Stephenie Meyer's Twilight and all the other bestsellers. The cause of the huge upsurge in orders that totaled in the thousands was a "computer glitch" that priced many graphic novels from Marvel, Dark Horse, Image, IDW and other publishers represented by Diamond Book Distributors at either $14.99 or $8.24.
When word spread throughout the comic community thanks to mentions on Internet sites like Rich Johnston's Bleeding Cool, there was a rush of orders for high ticket items like Mark Millar and Bryan Hitch's The Ultimates Omnibus (cover price $99.98), which was supposedly selling for $8.24 or Robert Kirkman's The Complete Invincible Library HC Vol. 1 (normall $125), which was listed for $14.99. By Sunday morning the top six titles on Amazon's list of bestselling books were comic book collections led by The Ultimates Omnibus and The Wolverine Omnibus, both of which were supposedly selling for $8.24.
By Sunday afternoon when Amazon began to change the prices back to their normally discounted levels (The Ultimates Omnibus was back selling for $62.99), the top 15 Amazon bestsellers were all comic book collections. By Sunday evening Amazon was sending out email notices "sincerely regretting" the pricing errors and canceling the orders. Not all the orders were cancelled however and it appears that at least some of the orders have shipped or will ship. ICv2's calls to Amazon about the disposition of the orders have not yet been returned.