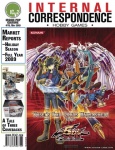 An ICv2 Release. ICv2 has announced the release of ICv2's Internal Correspondence #70, which was released to the trade by Alliance Game Distributors, Diamond Comic Distributors, ACD Distribution, GTS Distribution, AAA Anime, Skyline Distribution, Bookazine, other distributors, and is also available directly from ICv2.
ICv2's new magazine, the 70th issue published so far, has been renamed Internal Correspondence and re-purposed to cover an even wider swath of the pop culture landscape. The new name brings the publication full circle back to its origins, the Internal Correspondence trade publication published by Capital City Distribution starting in 1982 from which ICv2 ("Internal Correspondence Version 2") gets its name. Internal Correspondence #70 is a flip book that covers graphic novels, manga, movies, DVDs, and TV on one side and the hobby game market on the other.
With its mix of analyses of market trends in the recent past and its look at the products and phenomena that have the potential to influence the future, the contents of the new Internal Correspondence will be familiar to those who have read previous ICv2 publications. The issue includes market reports on the hobby game and graphic novel markets; a report on the release plans of manga publishers for 2010; coverage of the top movies and DVDs coming out in the next months; product news and features; Pick Hits for Q2 2010; DVD, manga, and graphic novel reviews; graphic novel and hobby game bestseller charts; and more.
For more on the contents of this issue, along with links to the graphic novel bestseller lists (game lists will go up tomorrow), see "Fewer Manga in 2010."

For those interested in subscribing to the ICv2's Internal Correspondence, please visit the ICv2 Online Store (click here). Or if you are interested in ordering a single copy of the ICv2's Internal Correspondence #70, please click here. For retailers, if your distributor is on the list above, just ask for your free copy of IC, or if not, e-mail Dennis Viau at dviau@icv2.com to request a complimentary copy.