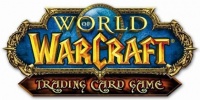 This week Blizzard Entertainment is expected to release details on how it plans to carry on with The World of Warcraft Trading Card Game, but a statement issued by the company on the eve of the Realm Championships last weekend leaves little doubt that the WoW TCG will continue.
In a post on the official WoW forums, a Blizzard spokesperson stated: "We want to reassure players that the WoW TCG will continue, and (we) look forward to the releasing the Wrathgate and Icecrown expansions this spring and summer." What is still not known at this point is whether Blizzard will produce the game itself or license another company to do so, but it is clear that Blizzard went to some trouble to insure that the Realm Championships were held.
Although trophies were not ready for the Realm Championship events, Blizzard indicated that everything else would continue as planned. ICv2 checked with one of the tournament stores, Heroes Cards, Comics, and Games of Newnan, Georgia. Tim Roberts of Heroes said the Realm Championships drew a nearly 80 players from across the Southeastern U.S., and went off without a hitch.